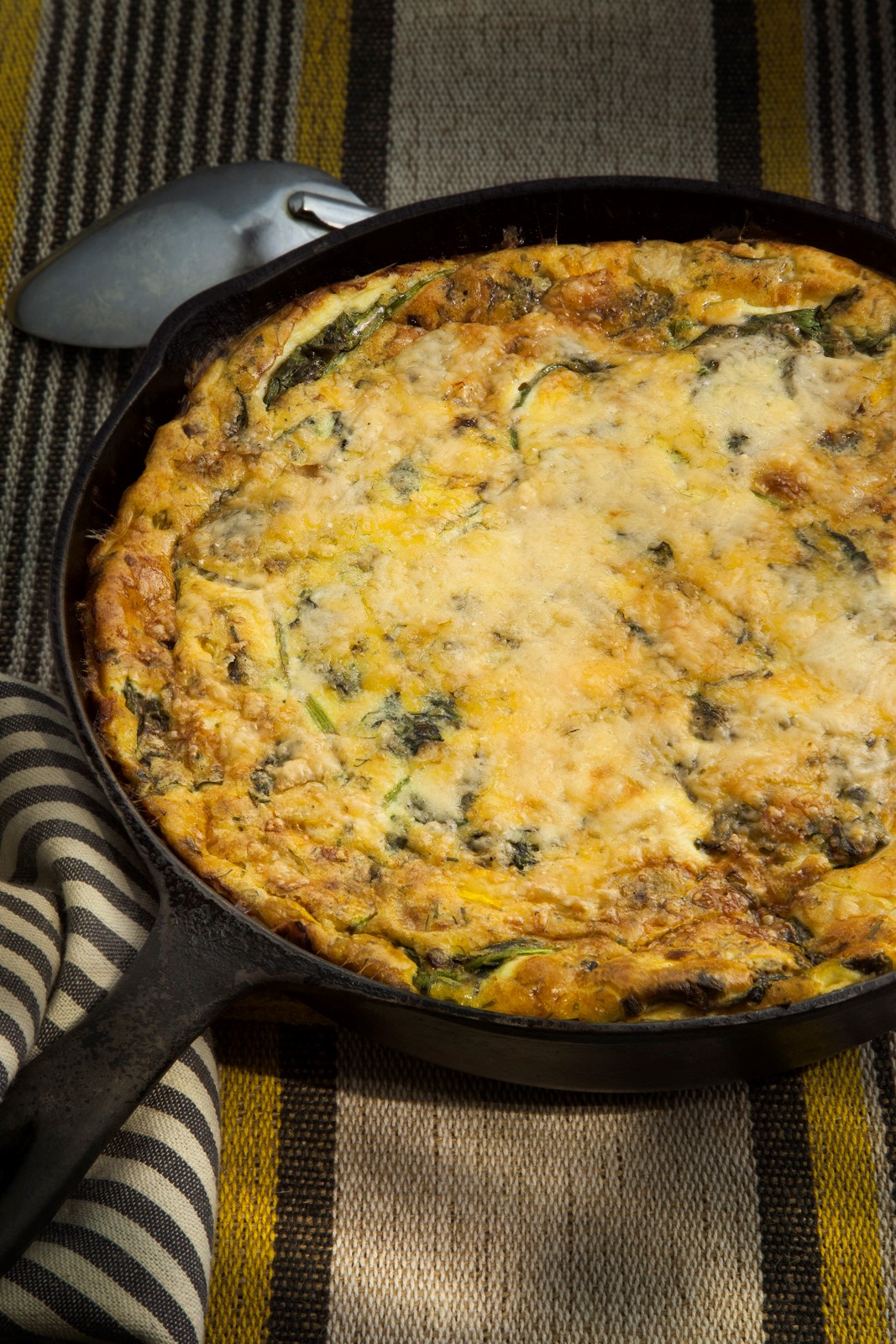 Clafoutis are traditionally cherry-filled baked flans. This is a savory version, packed with oodles of vegetables and mounds of cheese. It's a perfect brunch or lunchtime dish.
Serves 8 people as a first course or 4 people as a main course
3 cups milk
1 tablespoon chives
1 tablespoon dill
3 oz (2/3 cup) unbleached all-purpose flour
5 large eggs
4 oz cheddar cheese — grated
2 tablespoons crème fraîche
Olive oil
1 large onion — peeled and chopped
1 small bunch green onions — ends trimmed, white and light green parts chopped
1 yellow squash — chopped into ½-inch pieces
1 green zucchini — chopped into ½-inch pieces
Salt and pepper
2 cups packed baby spinach leaves
1. Preheat oven to 400 degrees.
2. In a medium saucepan, warm the milk with the chives and dill for 4-5 minutes over low heat. Remove the pan from the heat.
3. Place the flour in a large bowl. Whisk in one egg at a time. The batter should be completely smooth. Slowly pour in the milk mixture and whisk until the batter is free of any lumps. Add three-quarters of the cheese, the crème fraiche, a good pinch of salt and 7-8 grinds black pepper and mix until smooth. The batter will be thin.
4. Pour a little olive oil into a large cast iron pan or ovenproof skillet set over medium-high heat. Sauté the onions and green onions until completely soft and golden, about 8-10 minutes. Add the zucchini and cook until golden brown, 7-10 minutes. Add the spinach and cook until wilted.
5. Pour the batter over the vegetables. Place in the center of the oven and bake for 10 minutes. Scatter the remaining cheese over the top and continue baking for 20 minutes. The clafoutis is done when the custard is just set. The top should be golden brown. Serve at room temperature.