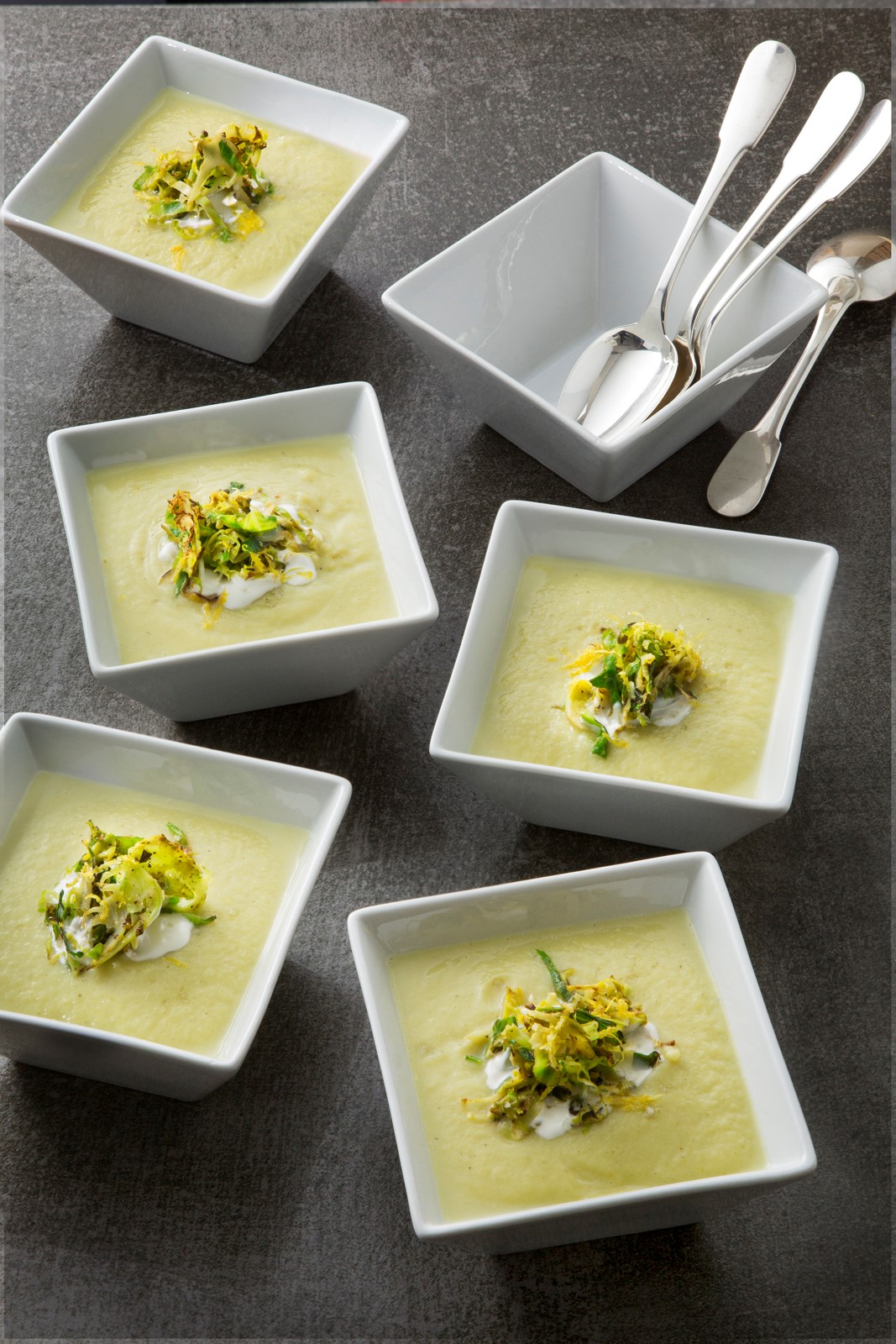 Serves 8 people
For the soup:
2 tablespoons olive oil
1 large yellow onion — peeled and finely chopped
2 leeks — ends trimmed, cleaned, white and light green parts finely chopped
1 tablespoon curry powder
2 heads cauliflower (2 lbs each) — core removed, separated into florets
8 cups vegetable stock
Salt
Pepper
For the Brussels sprouts:
Olive oil
1 lb Brussels sprouts — finely sliced using a mandolin
2 tablespoons finely chopped chives
Zest of 1 lemon
Salt
Pepper
1/3 cup crème fraîche
Pour the olive oil in a large saucepan over medium heat. Add the onion, leeks and curry powder and cook for 4-5 minutes, stirring frequently until the onions are softened. Add the cauliflower, a good pinch of salt and 10-12 grinds pepper, and continue cooking for 2 minutes.
Add the vegetable stock to the saucepan and simmer until the vegetables are tender, about 20-25 minutes. Remove from the heat and purée the soup using an immersion blender. For a smoother texture, pass it through a fine mesh sieve. Cover and keep the soup warm until ready to serve.
Pour a little olive oil into a medium skillet over medium-high heat. Add the Brussels sprouts, a good pinch of salt and 4-5 grinds pepper. Cook, stirring frequently until the sprouts are golden brown. Add the chives and lemon zest and toss to combine.
Serve the soup in warmed soup bowls. Place a dollop of crème fraîche in the center of each bowl and top with a spoonful of the crispy Brussels sprouts.