Nothing speaks of summer as much as pints of freshly picked berries, all aligned in their containers at the farmers market – every color from red to blue, conjuring up images of berry pies, berries and ice cream, berry smoothies or just eating them by themselves and savoring their individual juicy delights. A fresh fruit salad comprised of strawberries, blueberries, blackberries and raspberries served with a good shortbread cookie is the perfect end to a summer picnic.
Of all the summer berries, I have a penchant for raspberries and blueberries. The latter are also good for you as they are high in anti-oxidants and rich in vitamins A and C. Blueberries, which are native to Asia and North America are one of Earth's oldest plants. They have been part of the native-American diet for centuries; used dried in puddings and cakes and used as a ground spice in meats and soups. I have developed many dishes over the years, both savory and sweet with these delectable fruit.
This salad marries sweet and savory, with the warm goat cheese blending with the blueberry vinaigrette. A delightful, slightly piquant salad – it's great for lunch or as a first course. More blueberry dishes will follow over the course of the summer as they are amongst my favorite.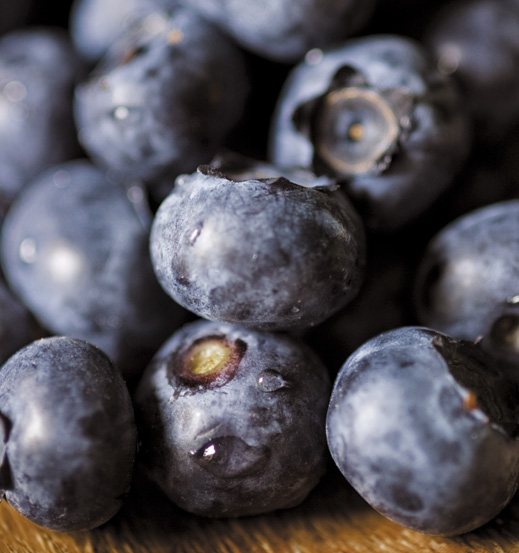 BLUEBERRY AND GOAT CHEESE SALAD
Serves 8 people
For the vinaigrette:
4 tablespoons apple bouquet cider vinegar or another sweet vinegar, such as fig balsamic
1/4 cup fresh blueberries
1 tablespoons Dijon mustard
1/4 teaspoon salt
1/2 cup olive oil
Place the vinegar, blueberries, mustard and salt in a blender. Blend until smooth, with motor running, slowly pour the oil into the mixture. You should now have a very thick and creamy dressing. Refrigerate until use. Can be refrigerated for up to 24 hours prior to serving.
For the pecan crumb mixture:
1 cup pecans
1/4 cup sugar
1/4 teaspoon cinnamon
1/8 teaspoon salt
8 ounce log of really good goat cheese, sliced into 8 -1 ounce pieces
Place all the ingredients (except the goat cheese) in a large sauté pan on medium heat. Keep moving the pan until the sugar melts and the ingredients are melted together. Do not walk away from this procedure as it can burn very quickly.
Pour on a greased sheet pan to cool.
When cool place in food processor and pulse until finely chopped. Set in a Pyrex pie pan. Set aside.
Take the slices of goat cheese and dredge into pecan crumb mixture.
Place the goat cheese in a medium sauté pan and warm for 30 to 35 seconds each side. Take care not to over heat or you cheese will run.
For the salad:
16 oz mixed salad greens – cleaned and dried
1 pint of fresh blueberries
Divide the salad equally amongst individual salad plates. Add one slice of warm goat cheese and sprinkle with fresh blueberries. Drizzle with the salad dressing and serve immediately.