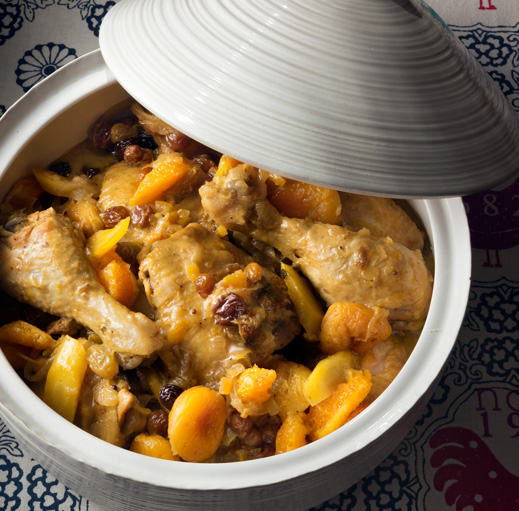 I have delved into the world of Moroccan and North African cuisine, reading about sumptuous dishes in books by Claudia Roden, Paula Wolfert, the Maloufs and Clifford A. Wright. I've been inspired by their culinary journeys and revel in the fragrance and spices of the African continent. After making a batch of Ras el Hanout, a spice mix that means "best of the house," I thought I'd try combining it with some curry powder to make a tajine with an African-Asian spice fusion. The aroma drifting across the kitchen as this simmered was mouth-watering. The end result produced a chicken that melted off the bone with plump, juicy, succulent fruit. This dish has become a family favorite.

Serves 8 people
1 heaped teaspoon curry powder
1/2 teaspoon Ras el Hanout
1 tablespoon olive oil
1/4 cup orange juice
8 chicken legs or thighs
Salt and black pepper
Olive oil
2 large onions — peeled, halved and sliced
25–30 dried apricots
2 small preserved lemons — roughly chopped
4 oranges — peeled and sectioned
1 cup golden raisins
1 In a large bowl, combine the curry powder, Ras el Hanout and olive oil to form a thick paste. Stir in the orange juice. The mixture should be quite thick. Add the chicken and coat all sides. Let the chicken marinate for at least 30 minutes. (This can be done up to 8 hours in advance.)
2 Pour 1–2 tablespoons olive oil into the base of a tajine with a cast-iron bottom (or Dutch oven) over medium-high heat. Add the onions and sauté until golden, about 6–7 minutes. Add the marinated chicken legs and brown on all sides, about 3–4 minutes per side. Pour enough water to come halfway up the sides of the chicken. Cover with the tajine lid. Reduce to a simmer and cook for 20 minutes.
3 Add the apricots, golden raisins, lemons and oranges to the tajine and stir, turning the chicken pieces once or twice. Replace the lid and cook for an additional 40 minutes or until the chicken is tender and meat is almost falling off the bone.
4 Serve with plenty of the pan juices, the fruit and onions. I like to serve this dish with couscous.