SUMMER PEACH AND FETA SALAD
Serves 8 people
4 peaches – sliced
2 apples – cored and sliced
1 bunch radishes – cut into thin slices
8 oz feta – cut into small pieces
1 bunch spring onions – thinly sliced
1 bunch chives – finely diced
Zest of 1 lemon
4 oz black olives – sliced
Lemon olive oil
A large pinch coarse sea salt
Coarsely ground black peppercorns
Place all the ingredients in a large bowl and then drizzle the lemon olive oil over the top. Add in the salt and pepper and toss carefully.
Serve with warm pita bread.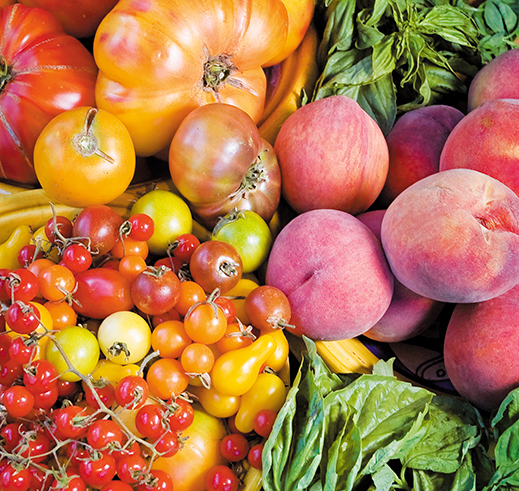 TOMATO AND PEACH SALAD
Serves 8 people
4 large heirloom tomatoes of different varieties
4 large yellow peaches
3 sprigs basil – leaves thinly sliced
4 oz goat cheese
Freshly-ground black pepper
Coarse sea salt
Fig puree – found in specialty food stores – if you cannot find it, a good fig balsamic vinegar works well too
Using a very sharp or serrated knife, thinly slice the peaches and the tomatoes. Place all the slices on a large serving dish alternating between the tomatoes and the peaches and creating a circular pattern.
Crumble the goat cheese all over the top of the tomatoes and peaches and add the thinly sliced basil leaves. Add freshly ground pepper and a good pinch of the sea salt.
Just before serving drizzle the fig puree over the salad.