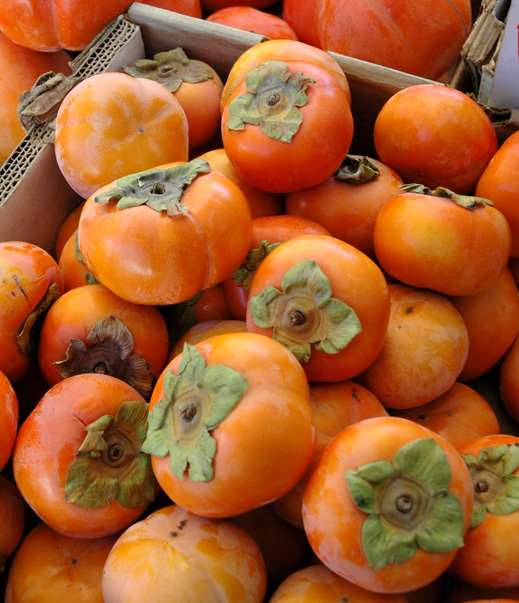 ROASTED PERSIMMONS WITH VANILLA-LEMON CRÈME FRAICHE
Serves 8 people
2 oz butter
1 tablespoon sugar
1 teaspoon cinnamon
2 cloves
1 teaspoon crystallized ginger
8 regular or 4-6 large persimmons – wiped clean and then thinly sliced
8 oz crème fraiche
Zest of 1 lemon
1 vanilla bean – seeds scraped out or 1 teaspoon vanilla paste
Preheat the oven to 350 degrees.
Melt the butter in a small saucepan placed over medium heat. Add in the sugar, cinnamon, cloves and ginger and stir until the sugar has melted.
Place all the persimmon slices on a baking sheet. Pour the butter/sugar mixture over the top of them and ensure that all the fruit are coated with mixture.
Bake in the oven for 20 minutes.
Whilst they are baking, combine the crème fraiche, lemon zest and vanilla in a small bowl. Keep refrigerated until you are ready to serve the dessert.
Serves the roasted persimmons on dessert plates with a spoonful of the crème fraiche mixture. This is also very good with vanilla ice cream.