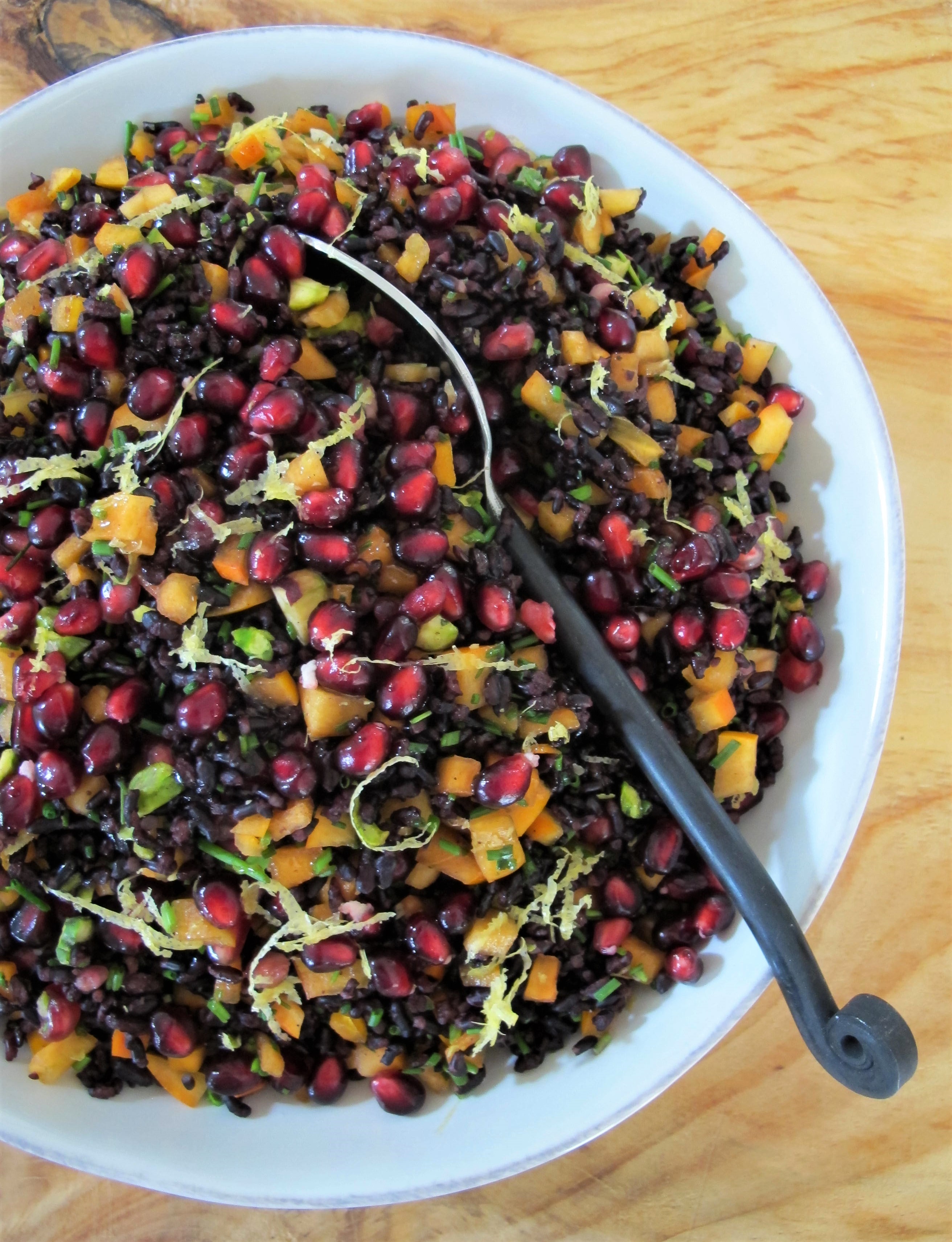 I belong to a wonderful book club. For over a decade we have shared advice, laughed and cried together, had meals together, oh, and read books, too. There are seven of us. We're a somewhat eclectic group comprised of one vegan, two pescetarians, a vegetarian and the rest who eat almost everything. We have a monthly potluck where the host prepares the main dish. One November, our meal took on epic proportions and resembled a vegetarian Thanksgiving feast. I made this hearty, jewel-like Forbidden rice dish to share with these terrific women. Thank you, ladies, for all the great meals, discussions and books we have shared together over the years!
Serves 8 people
¾ cup uncooked black rice (sometimes called Forbidden rice) — rinsed
Seeds from 1 large pomegranate
1-2 Fuyu persimmons — diced (about the size of the pomegranate seeds)
1/3 cup pistachios — roughly chopped
6 tablespoons chives — finely chopped
Zest and juice of 1 small lemon
For the vinaigrette:
1½ teaspoons pomegranate molasses
1 tablespoon red wine vinegar or pear Champagne vinegar
¼ cup olive oil
Salt and black pepper
1. Place the well-rinsed rice in a small saucepan with 1½ cups of water and a pinch of salt. Bring to a boil. Reduce heat to low. Cover and cook for 20-25 minutes or until the rice is tender and the water has been absorbed. Transfer the cooked rice to a medium-sized serving bowl.
2. Add the pomegranate seeds, chopped persimmons, pistachios and chives. Stir to combine. Add the lemon juice and zest and stir once more.
3. Whisk the vinaigrette ingredients together in a small bowl. Stir into the rice mixture. Let rest at least 15 minutes before serving.