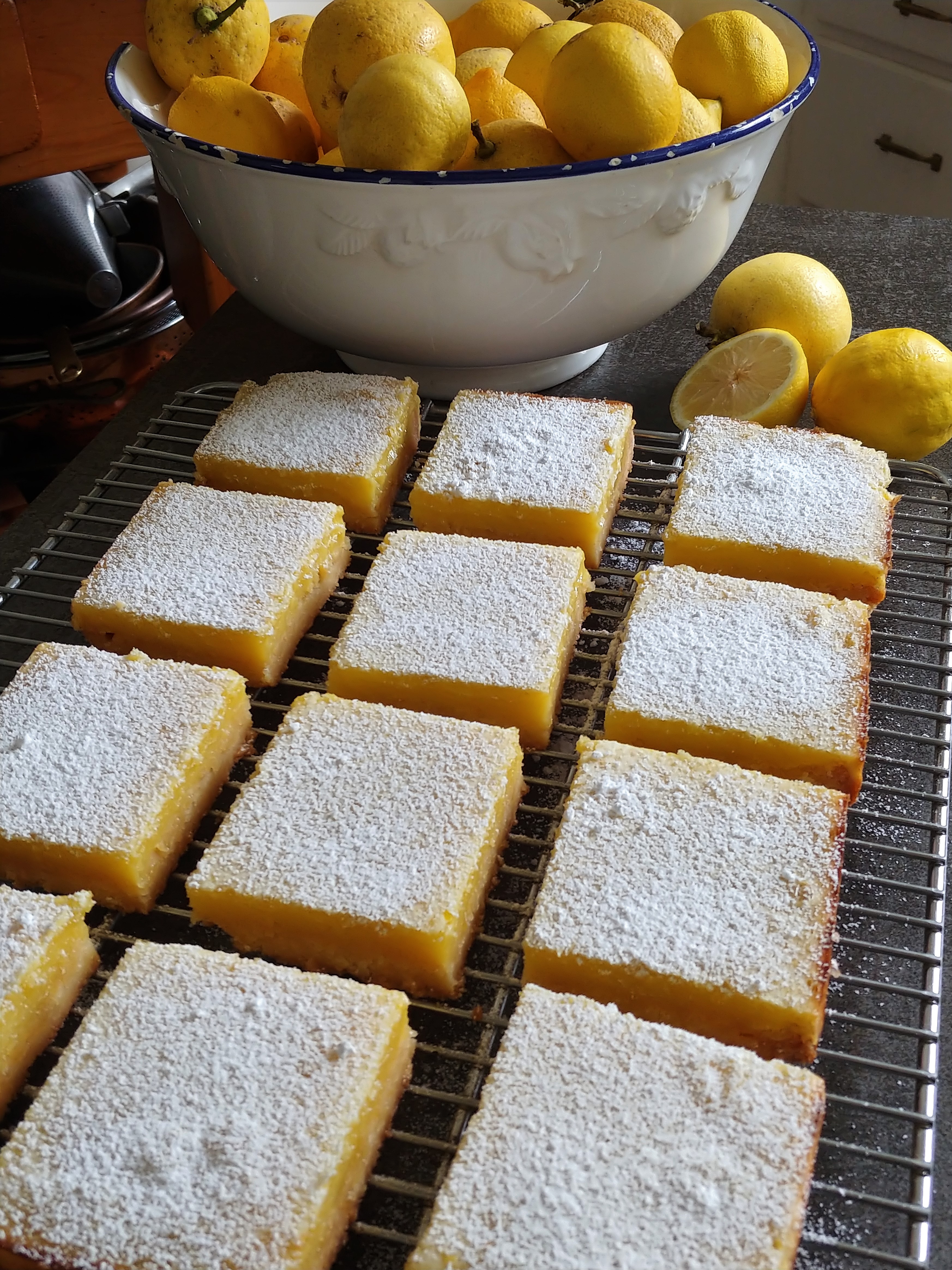 Adapted from an Ina Garten Recipe in The Barefoot Contessa
I adore lemon desserts. Lemon tarts, lemon mousse, lemon scented shortbread, well, you get the idea. My daughter asked me if I had even made lemon bars. I had but the recipe was too long and complicated and I wanted something simpler. These are just scrumptious. I came across an easy, quick recipe in one of Ina Garten's books and adapted it slightly. The principal difference is that I have used less sugar in both the crust and filling, less flour in the filling, and added lemon zest and pistachios to the crust. They keep really well, and are just about perfect with an afternoon cup of tea, or a morning coffee says my daughter! I hope you enjoy them as much as we do.
For the crust:
8 oz unsalted butter, at room temperature
2.5 oz (1/3 cup) granulated sugar
8 ½ oz (2 cups) unbleached all-purpose flour
2 tablespoons chopped pistachios
Zest of 1 lemon
1/8 teaspoon kosher salt

For the filling:
6 large (or 7 medium) eggs at room temperature
2 1/3 cups granulated sugar
Zest and juice of 5-6 lemons to yield ¾ cup freshly squeezed lemon juice
3/4 cup flour
Confectioners' sugar, for dusting.

Preheat the oven to 350 degrees.

For the crust, cream the butter and sugar until light in the bowl of an electric mixer fitted with the paddle attachment. Add the flour, chopped pistachios and salt and, with the mixer on low, mix until just combined. Place the dough into a parchment lined 9 by 13 by 2-inch baking pan. Flatten the dough with floured hands and press it, building up a 1/2-inch edge on all sides. Chill for 10 minutes.

Bake the crust for 15 to 20 minutes, until very lightly browned. Let cool on a wire rack. Leave the oven on.

For the filling, whisk together the eggs, sugar, lemon zest, lemon juice, and flour. Pour over the crust and bake for 30 to 35 minutes, until the filling is just set. Let cool to room temperature.

Cut into squares and dust with confectioners' sugar.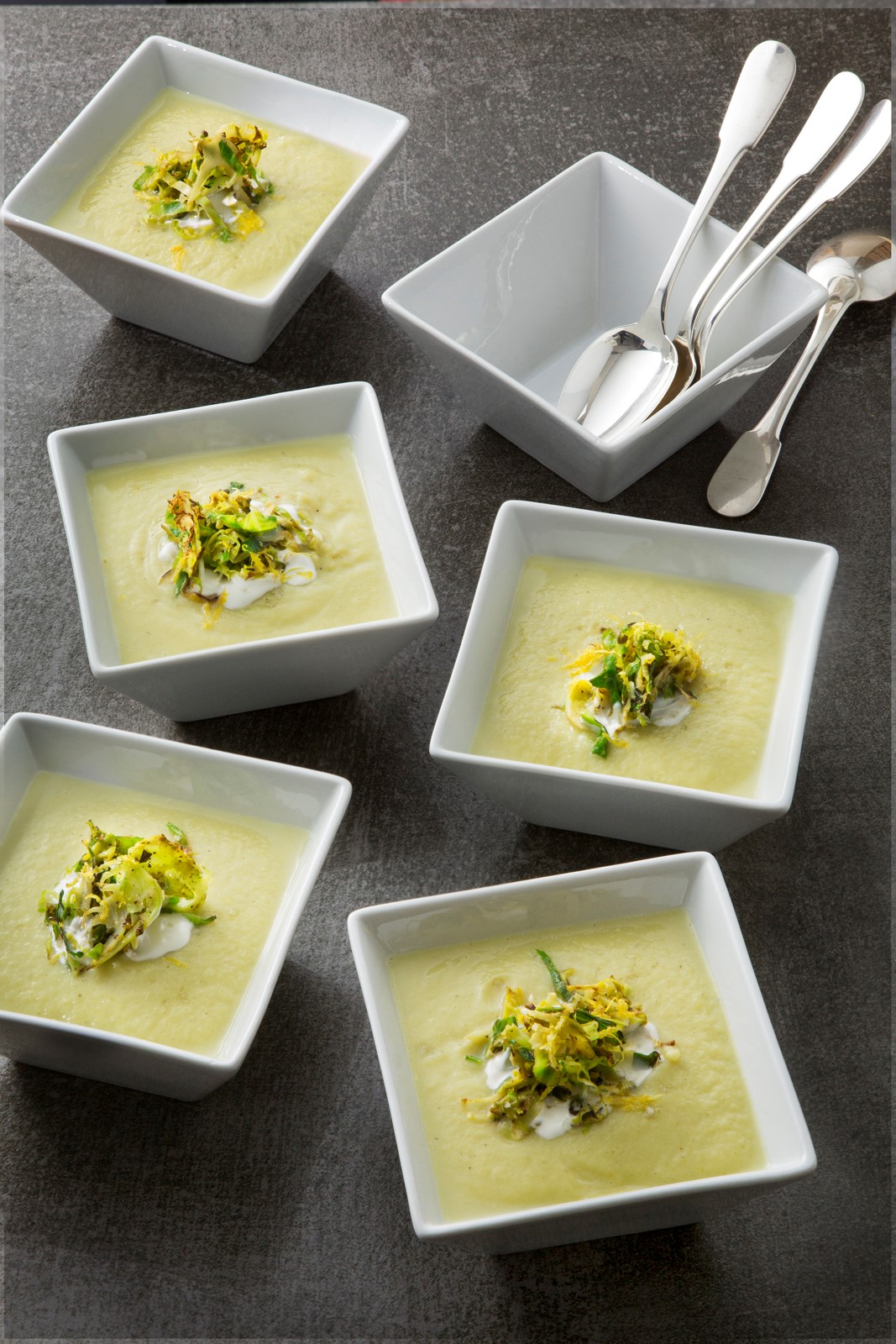 Serves 8 people
For the soup:
2 tablespoons olive oil
1 large yellow onion — peeled and finely chopped
2 leeks — ends trimmed, cleaned, white and light green parts finely chopped
1 tablespoon curry powder
2 heads cauliflower (2 lbs each) — core removed, separated into florets
8 cups vegetable stock
Salt
Pepper
For the Brussels sprouts:
Olive oil
1 lb Brussels sprouts — finely sliced using a mandolin
2 tablespoons finely chopped chives
Zest of 1 lemon
Salt
Pepper
1/3 cup crème fraîche
Pour the olive oil in a large saucepan over medium heat. Add the onion, leeks and curry powder and cook for 4-5 minutes, stirring frequently until the onions are softened. Add the cauliflower, a good pinch of salt and 10-12 grinds pepper, and continue cooking for 2 minutes.
Add the vegetable stock to the saucepan and simmer until the vegetables are tender, about 20-25 minutes. Remove from the heat and purée the soup using an immersion blender. For a smoother texture, pass it through a fine mesh sieve. Cover and keep the soup warm until ready to serve.
Pour a little olive oil into a medium skillet over medium-high heat. Add the Brussels sprouts, a good pinch of salt and 4-5 grinds pepper. Cook, stirring frequently until the sprouts are golden brown. Add the chives and lemon zest and toss to combine.
Serve the soup in warmed soup bowls. Place a dollop of crème fraîche in the center of each bowl and top with a spoonful of the crispy Brussels sprouts.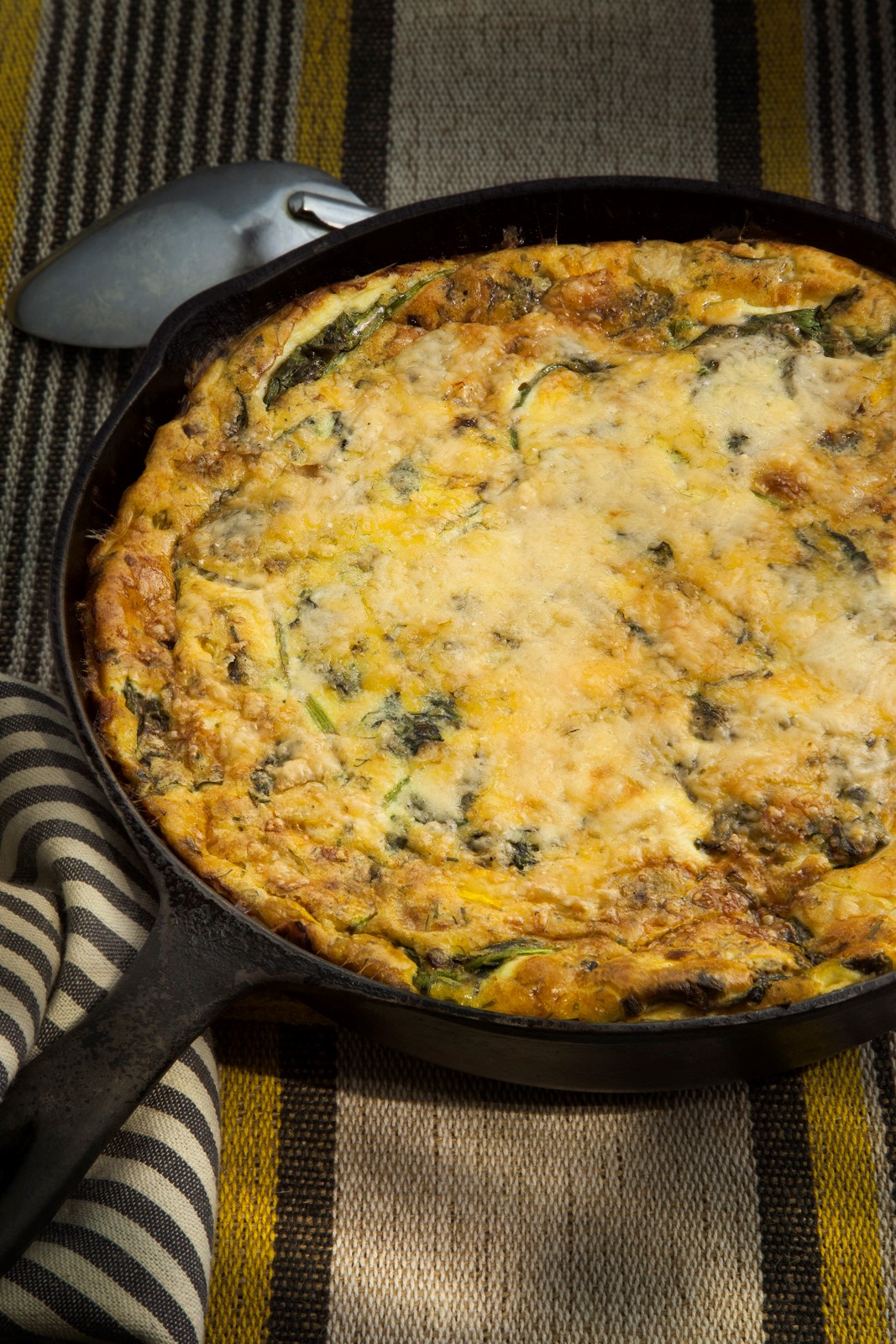 Clafoutis are traditionally cherry-filled baked flans. This is a savory version, packed with oodles of vegetables and mounds of cheese. It's a perfect brunch or lunchtime dish.
Serves 8 people as a first course or 4 people as a main course
3 cups milk
1 tablespoon chives
1 tablespoon dill
3 oz (2/3 cup) unbleached all-purpose flour
5 large eggs
4 oz cheddar cheese — grated
2 tablespoons crème fraîche
Olive oil
1 large onion — peeled and chopped
1 small bunch green onions — ends trimmed, white and light green parts chopped
1 yellow squash — chopped into ½-inch pieces
1 green zucchini — chopped into ½-inch pieces
Salt and pepper
2 cups packed baby spinach leaves
1. Preheat oven to 400 degrees.
2. In a medium saucepan, warm the milk with the chives and dill for 4-5 minutes over low heat. Remove the pan from the heat.
3. Place the flour in a large bowl. Whisk in one egg at a time. The batter should be completely smooth. Slowly pour in the milk mixture and whisk until the batter is free of any lumps. Add three-quarters of the cheese, the crème fraiche, a good pinch of salt and 7-8 grinds black pepper and mix until smooth. The batter will be thin.
4. Pour a little olive oil into a large cast iron pan or ovenproof skillet set over medium-high heat. Sauté the onions and green onions until completely soft and golden, about 8-10 minutes. Add the zucchini and cook until golden brown, 7-10 minutes. Add the spinach and cook until wilted.
5. Pour the batter over the vegetables. Place in the center of the oven and bake for 10 minutes. Scatter the remaining cheese over the top and continue baking for 20 minutes. The clafoutis is done when the custard is just set. The top should be golden brown. Serve at room temperature.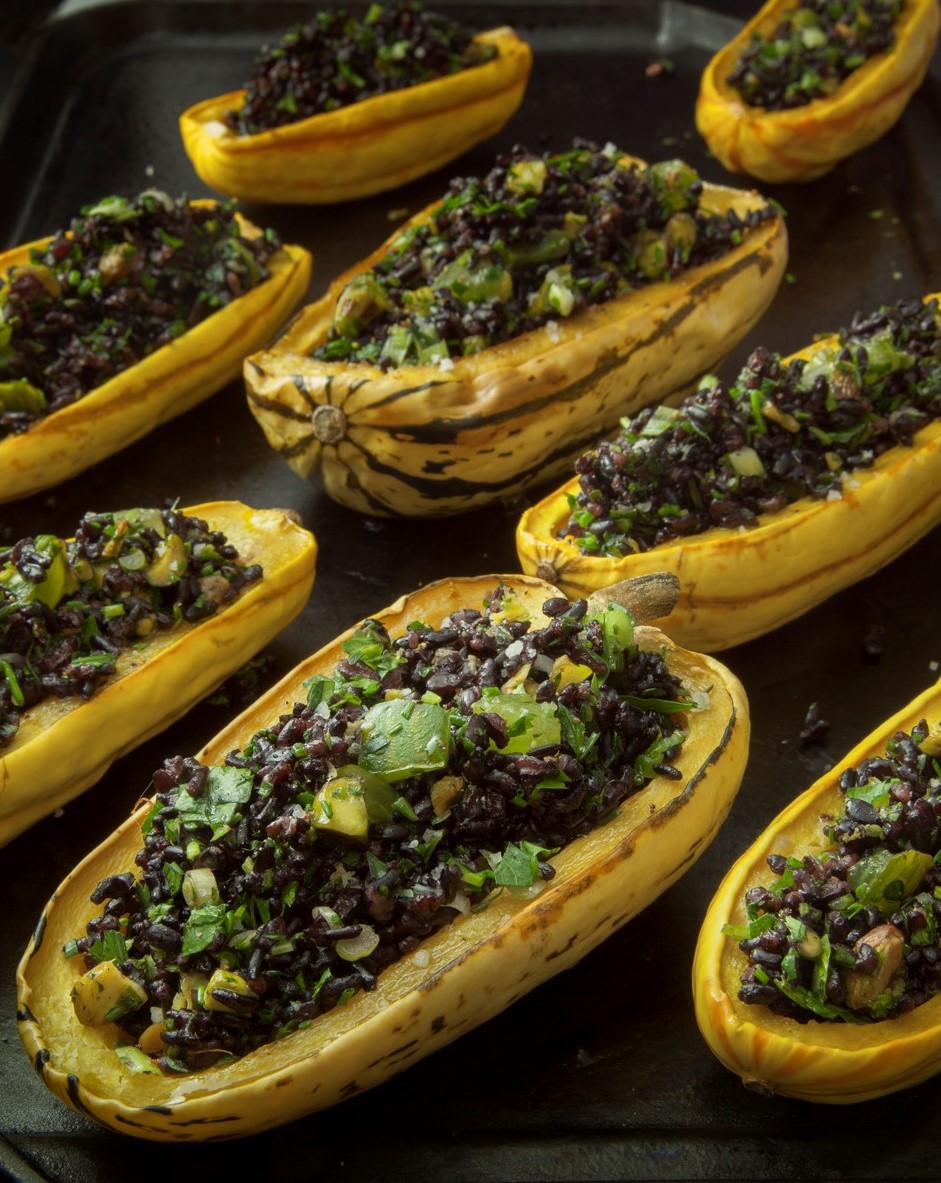 These beautiful golden squash have a sweet, delicate flavor, a creamy texture, and are entirely edible — yes, skin included. They are also the perfect receptacles for stuffing. In this version, they're packed with forbidden rice that's chock full of herbs and pistachios, and have a lively citrus zing.
Serves 8 people
For the squash:
8 small delicata squash — halved lengthwise, seeds removed
Olive oil
Zest of 2 lemons
Salt
Pepper
For the stuffing:
1 cup black rice –well rinsed
3 tablespoons finely chopped flat leaf parsley
3 tablespoons finely chopped chives
2 tablespoons pistachios — finely chopped
2 green tomatoes — diced
Zest of 1 lime
Juice and Zest of 1 lemon
2 tablespoons olive oil
Salt
Pepper
Preheat oven to 350 degrees.
Place the squash cut side up on a baking sheet. Drizzle with a little olive oil and sprinkle with a little salt and pepper. Roast for 30-35 minutes or until a knife is easily inserted.
While the squash is roasting, prepare the stuffing. Place the rice in a small saucepan with 1½ cups of water and a pinch of salt. Bring to a boil. Reduce heat to low. Cover and cook for 20-25 minutes or until the rice is tender and the water has been absorbed.
Place the cooked rice and the remaining stuffing ingredients in a medium bowl and mix well to combine.
Fill the cooked squash with the stuffing mixture. Serve warm.
This is lovely with a spoonful of yogurt or some crumbled goat cheese on top. I like to serve this with a green salad.
Cook with Pascale on her YouTube Channel:
For this recipe click on the image below.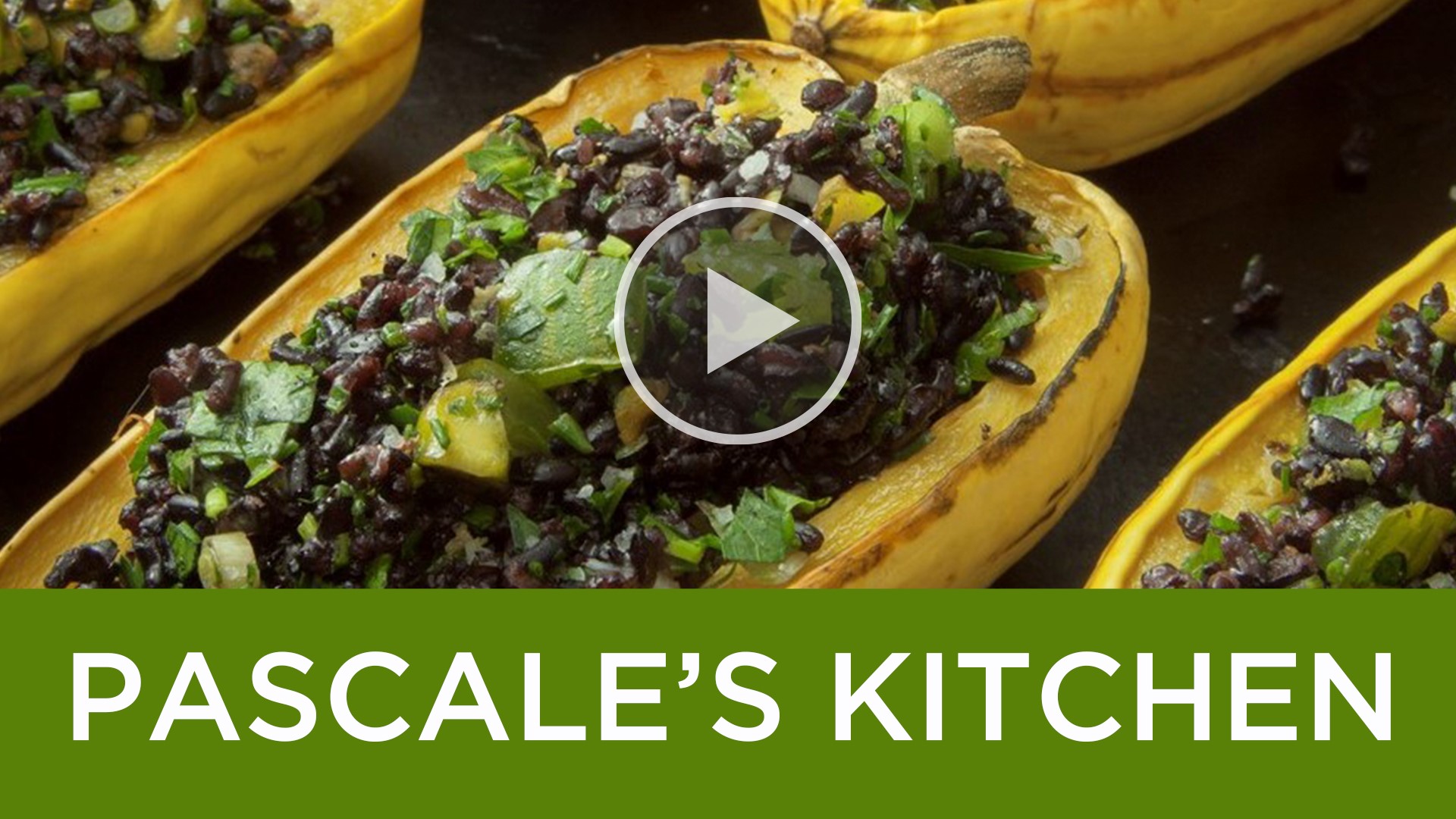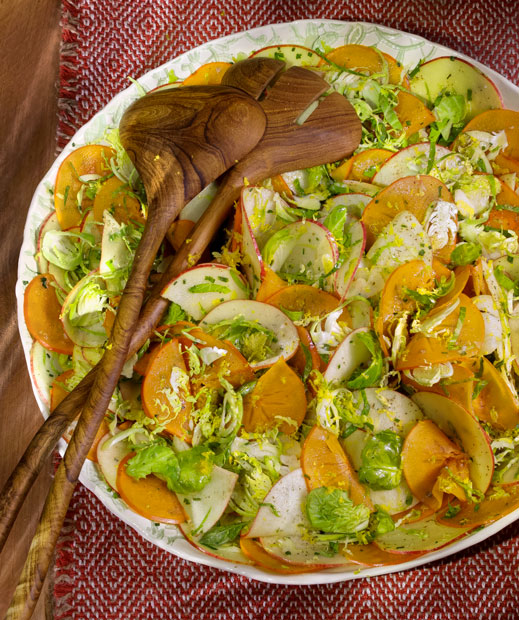 Serves 8 people
For the vinaigrette:
¼ cup olive oil
1 tablespoon nut mustard
1 tablespoon red wine vinegar
Pinch of coarse sea salt
6-8 grinds black pepper
For the salad:
¼ cup lemon juice
¼ cup olive oil
12 oz Brussels sprouts — uncooked, very thinly sliced on a mandolin
4 Fuyu persimmons — very thinly sliced on a mandolin
4 apples — halved, cored, very thinly sliced
2 tablespoons finely chopped chives
1/2 cup basil leaves — stacked, tightly rolled and thinly sliced
Zest of 1 lemon
1. In a large salad bowl vigorously whisk together the vinaigrette ingredients to form an emulsion.
2. In a separate medium bowl, whisk together the lemon juice and olive oil. Add the Brussels sprouts and toss well to coat. Let marinate for 10 minutes.
3. Arrange the persimmon and apple slices with the Brussels sprouts in an attractive pattern in the salad bowl on top of the vinaigrette. Scatter the chives, basil and lemon zest over the vegetables. When ready to serve, very gently toss the salad.
A nice variation of this salad includes feta or mild goat cheese crumbled on top.