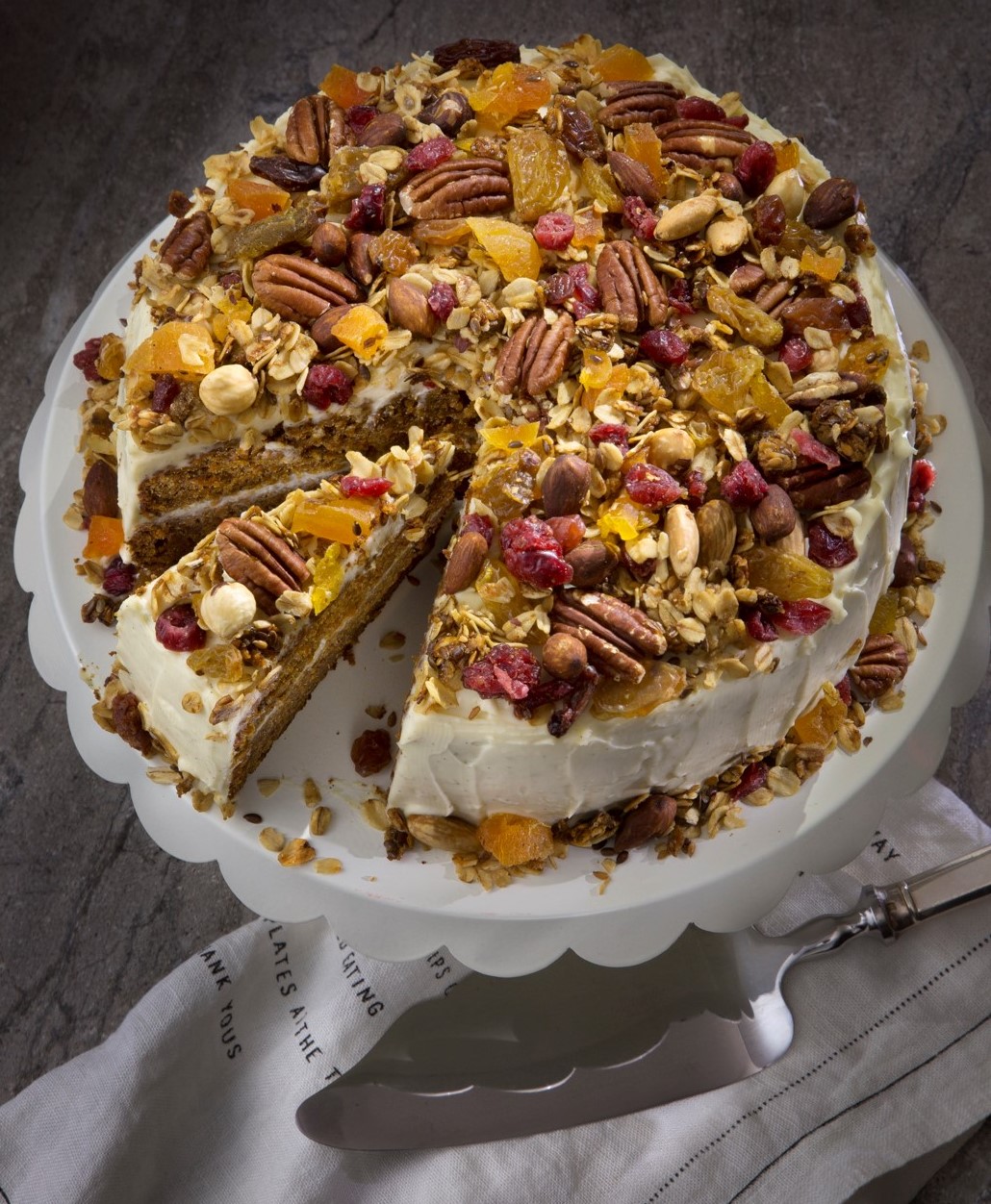 This recipe was inspired by and adapted from a carrot cake recipe I saw being made by Australian cook book author Donna Hay.
Serves 10-12 people
For the cake:
1 lb (450 grams) carrots — peeled and chopped
1 ¼ cups (140 grams) pecans
3 oz dates — pitted and chopped
1 cup packed (200g) brown sugar
1/3 cup (75g) sugar
1/3 cup vegetable oil
1/3 cup plain Greek yogurt
3 eggs
2 teaspoons vanilla bean paste (or pure vanilla extract)
2 teaspoons ground cinnamon
½ teaspoon ground allspice
1 ¾ cups (225g) unbleached all-purpose flour
1 teaspoon baking powder
1 teaspoon baking soda
For the frosting:
8 oz (250 grams) cream cheese — softened
4 oz (125 grams) mascarpone
1/3 cup confectioner's sugar
Zest and juice of 1 lemon
1 teaspoon vanilla bean paste
4 oz granola (for topping)
1. Preheat oven to 325°F. Lightly oil an 8-inch spring form pan, and then line the bottom of the pan with parchment paper.
2. Place the carrots and pecans into a food processor fitted with a metal blade and process until finely chopped. Add the dates and sugars and process again until just combined. Scrape down the sides of the mixing bowl.
3. Add the oil, yogurt, eggs and vanilla paste and process until just combined. It will look very wet at this stage – don't panic!
4. Add the spices, flour, bicarbonate of soda and baking powder and process for just a few seconds until the mixture has just come together.
5. Pour/ scrape the cake batter into the prepared 8-inch round spring form pan. Bake for 50–55 minutes. When tested with a skewer it should come out just clean. Allow to cool in the tin. Once cooled, slice the cake in half, horizontally. Place the bottom half of the cake on a cake plate or cake stand.
6. To make the mascarpone frosting, place the cream cheese, mascarpone lemon juice and zest, confectioner's sugar and vanilla in a food processor and process until smooth. This can be made ahead of time.
7. Spread one quarter of the frosting over the bottom layer of the cake. Place the second layer on top. Cover the entire cake with the remaining frosting and then top the cake with the granola.