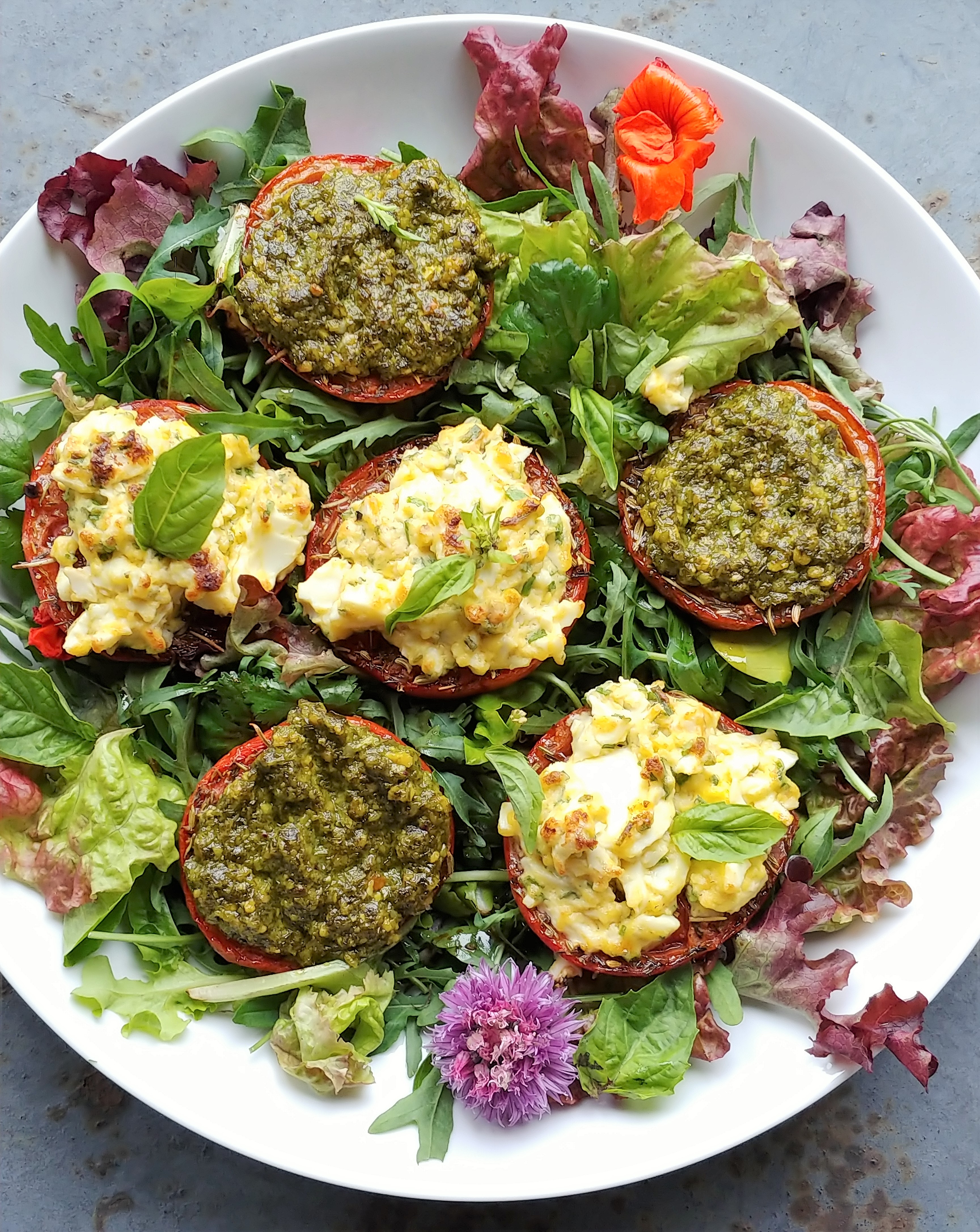 Genevieve Fay was my wonderful French grandmother. Cooking with her as I grew up was a special treat. This is one of the first things I learnt to make with her as a little girl and was always enchanted by its origins. The tomatoes are covered with a mixture which, she said, resembled mimosa. The lady who had given her the recipe told her that she was reminded of the mimosa she had seen in Japan and in fact called them 'Tomates Japonaise' or Japanese Tomatoes. We always called them tomates mimosas at home. They are excellent served with a green salad, roast chicken or with the racks of lamb.
Serves 8
16 small or 8 medium-sized, ripe yet firm tomatoes, each cut in half.
Olive oil
Salt and pepper
1 tablespoon Herbes de Provence
3 eggs – hardboiled
4 – 5 tablespoons Crème Fraiche
2 tablespoons finely chopped chives
1 tablespoon finely chopped parsley
5-6 basil leaves – very finely sliced
Preheat the oven to 375 degrees.

Pour a little olive oil into a heavy-bottomed oven-proof pan and place the tomato halves face side up. Drizzle with a little more olive oil, sprinkle the Herbes de Provence and some salt and pepper over the top. Roast for 1 hour.

Whilst the tomatoes are cooking, prepare the eggs. In a medium-sized bowl, mash the eggs with a fork or potato masher. Stir in the crème fraiche, the chives, parsley and basil. The mixture should look quite green. Add some black pepper, a pinch of salt and set aside.

Just before serving, spoon a heaped teaspoon (in the case of the small tomatoes) or a tablespoon (in the case of the medium tomatoes) of the egg mixture on top of each tomato. Place the baking dish under the grill (broiler) until the egg mixture is golden brown. Serve these hot.