Since the truly bumper harvest of nectarines from my garden a few weeks ago I have been keeping an eye on the plum tree, which I believe has been inspired by its fruity neighbor. It too has produced prodigious, beautiful sweet fruit. Great mounds of them in fact: 20 lbs ripening at a time, and still more to come. So much so that the nectarine frenzy of last month has been surpassed with an abundance of plum filled dishes, jams, ice creams, tarts and cakes. Thankfully we are all plum aficionados here.
Plums which were first cultivated in China are now grown commercially in many parts of the world. California is the United States largest producer of this fruit with much of the crop coming from the San Joaquin Valley. Many of our local farmers grow plums which the almost daily farmers markets showcase in great abundance. Santa Rosa plums are one of the most popular varieties in California. They are sweet and slightly tangy in taste, have a beautiful red/purple color, with an amber flesh and are perfect for the tart set out below.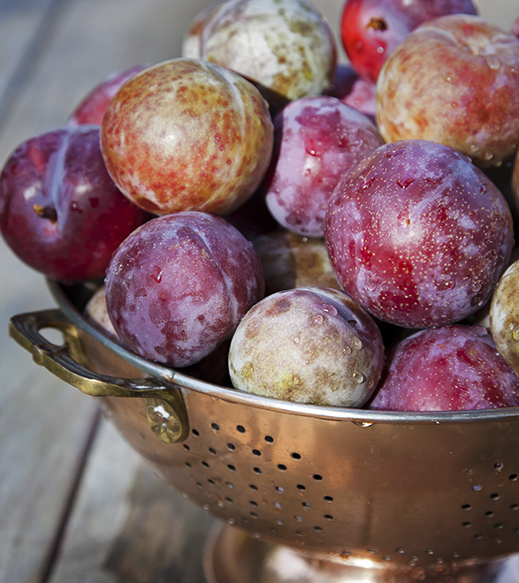 PLUM TART
For the crust:
24 gingersnaps
1 tablespoon melted butter
1 tablespoon sugar
1 pinch ground cinnamon
1 pinch allspice powder
Place all the gingersnaps in a food processor and pulverize to fine crumbs. Transfer them to a large bowl and add the melted butter and 1 tablespoon of sugar and mix together.
Transfer the mixture to a 12" spring form pan and press down with your fingers to make an even layer. Place the pan in the freezer and chill for about 15 minutes. If you are making this earlier in the day, place the tart base in the refrigerator until you are ready to serve the tart.
For the filling:
1 tablespoon butter
2 tablespoons sugar
16 plums – stone removed and thinly sliced
16oz goat cheese at room temperature
Zest of 1 lemon
4 tablespoons cream
6 tablespoons plum jam
Melt the butter in a large skillet placed over medium heat. Add the sugar and cook for 2 minutes and then add the plum slices. Cook for 2 minutes more. Remove from the heat and set aside until you are ready to assemble the tart.
Just before serving remove the tart base from the refrigerator. In a bowl combine the goat cheese, cream and lemon zest to form a smooth paste and spread this mixture carefully over the ginger crust.
Spoon the jam over the goat cheese so that it forms a smooth layer.
Arrange the plum slices by slightly overlapping each slice and placing them on top of the plum jam. Start from the outer edge of the tart and work towards the center in concentric circles. The tart looks like an open flower when it is finished. As with many summer tarts, this one is delicious served with crème fraiche or a dollop of vanilla ice cream.