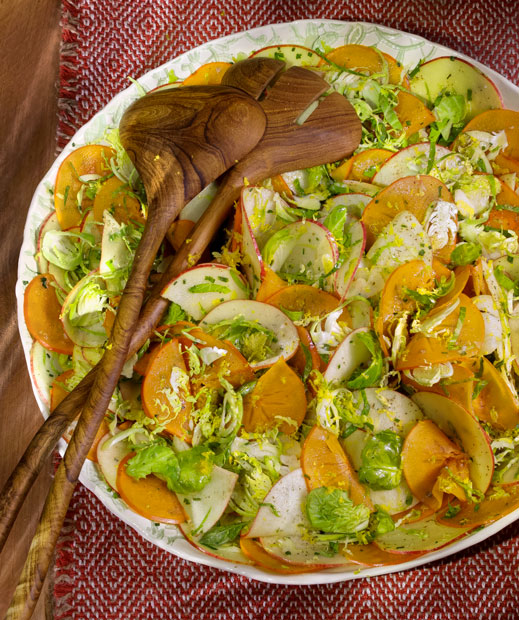 Serves 8 people
For the vinaigrette:
¼ cup olive oil
1 tablespoon nut mustard
1 tablespoon red wine vinegar
Pinch of coarse sea salt
6-8 grinds black pepper
For the salad:
¼ cup lemon juice
¼ cup olive oil
12 oz Brussels sprouts — uncooked, very thinly sliced on a mandolin
4 Fuyu persimmons — very thinly sliced on a mandolin
4 apples — halved, cored, very thinly sliced
2 tablespoons finely chopped chives
1/2 cup basil leaves — stacked, tightly rolled and thinly sliced
Zest of 1 lemon
1. In a large salad bowl vigorously whisk together the vinaigrette ingredients to form an emulsion.
2. In a separate medium bowl, whisk together the lemon juice and olive oil. Add the Brussels sprouts and toss well to coat. Let marinate for 10 minutes.
3. Arrange the persimmon and apple slices with the Brussels sprouts in an attractive pattern in the salad bowl on top of the vinaigrette. Scatter the chives, basil and lemon zest over the vegetables. When ready to serve, very gently toss the salad.
A nice variation of this salad includes feta or mild goat cheese crumbled on top.