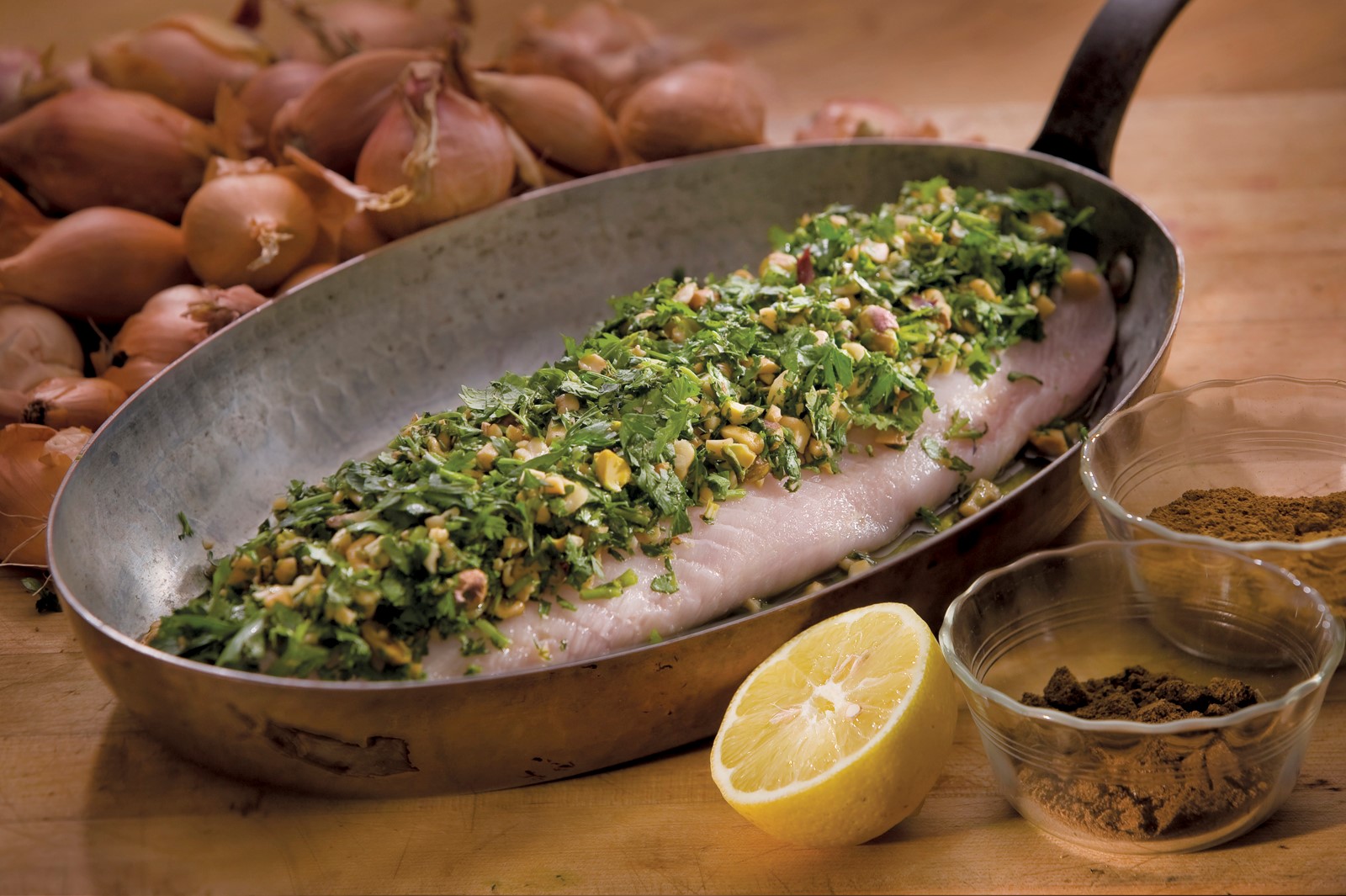 I am inspired by the spices, dishes and cuisine of all the countries surrounding the Mediterranean. Thousands of years of trade have influenced each country's gastronomic development and this dish pares many of the elements found in North African Cuisine with those of Provence – a dish that celebrates the fruits of the ocean, bound by the culinary threads that link both sides of that beautiful sea.
Serves 8 people
Olive oil
2 1/ 2 lbs black cod – If you cannot get black cod, use Escolar – allow approximately 6 ounces per person.
1/ 2 cup pistachios – finely chopped
1/ 2 cup cashew nuts – finely chopped
3 tablespoons chopped cilantro
3 tablespoons chopped parsley
Juice of 1 lemon
Salt
Pepper
1. Pre heat the oven to 325 degrees.
2. Pour a little olive oil into a baking pan that is large enough to hold the fish. Place the fish in the pan and turn it over once or twice to coat it.
3. In a small bowl combine all the remaining ingredients. Spoon the herb nut mixture all over the surface of the fish so that it is completely covered.
4. Bake in the center of the oven for 15-20 minutes, depending on the thickness of the filet. Serve with the yoghurt sauce.
SPICED YOGURT SAUCE
Serves 8 people
1/ 4 cup olive oil
1 inch piece of ginger – peeled and finely chopped
1 teaspoon ground cumin
1 teaspoon ground coriander
1 teaspoon curry powder or Ras al Hanout
8 oz Greek yogurt
Juice and zest of 1 lemon
1 small bunch cilantro – roughly chopped
1 small bunch parsley – roughly chopped
Salt
Pepper
1. Pour the oil into a small saucepan place over low heat. Add the ginger and spices and cook until the ginger is slightly golden. Set aside.
2. Spoon the yogurt into a small bowl and add in the spiced olive oil. Add in all the remaining ingredients and stir well to combine. Set aside until you are ready to serve the fish. You can make this up to 4 hours in advance.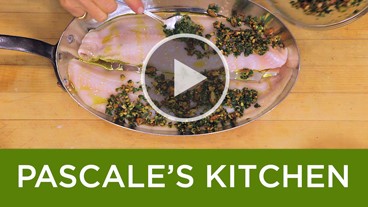 This recipe is featured on Pascale's Kitchen YouTube Channel.