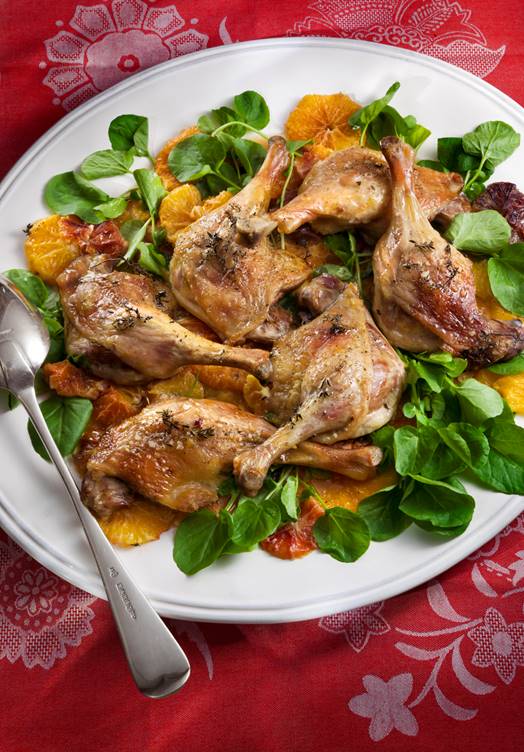 My brother and I loved Canard a l'Orange growing up. Our mother used to make an incredibly elaborate version of this dish, which at the time seemed to take days to prepare. This version is more rustic. It's quick to make and a tribute to that delicious extravagance I remember from my childhood. Merci Maman.
Serves 8 people
8 duck legs — trimmed of any excess fat
16 sprigs of thyme
Coarse sea salt and black pepper
4 oranges — peeled and sliced into disks
4 blood oranges — peeled and sliced into disks
Olive oil
2 bunches baby watercress
Preheat the oven to 400 degrees.
Place the orange slices on a baking pan, overlapping them slightly. Drizzle with a little olive oil and sprinkle with a little salt and pepper. Set aside.
Place the duck legs on a sheet pan and carefully score the skin, cutting slightly into the meat. Insert a sprig of thyme into each incision. Sprinkle with coarse sea salt and some black pepper. Roast on the middle rack of the oven for 30 minutes.
Reduce oven temperature to 350 degrees. Place the pan with the oranges in the oven on a rack below the duck. Continue roasting the duck and oranges for 30 minutes.
To serve, place the orange slices on a serving platter. Place the roasted duck on top of the oranges. Tuck the watercress between the duck legs.