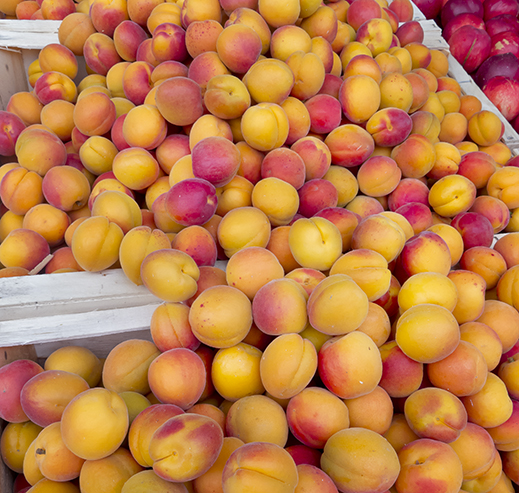 ROASTED SPICED APRICOTS AND RASPBERRIES IN PARCHMENT
Serve 8 people
2 tablespoons butter
1 teaspoon light brown sugar
½ teaspoon pure vanilla extract
1 inch piece fresh ginger – peeled and finely chopped
1 teaspoon cinnamon
1 cup orange juice
Zest of 1 lemon
8 cloves
16 apricots – halved
2 pints raspberries
Preheat the oven to 350 degrees.
Place the butter in a medium sized saucepan placed over medium heat. Once the butter has melted add in the brown sugar, ginger, cinnamon and vanilla extract and cook for 1 minute, stirring continually. Add in the orange juice and lemon zest and bring to a strong simmer, remove from the heat and set aside.
Cut 8, 12 x 12 inch pieces of parchment paper. Take one of the eight pieces and place 4 apricot halves and 1/8 of the raspberries in the center of the paper. Pour 1/8 of the orange spice mixture on top of the fruit and add in 1 clove. Carefully fold the parchment paper over the fruit so that the fruit and the juice are completely enclosed. You will need to fold the paper a few times to get a complete seal and then tuck the ends of the paper under the fruit. Place the pouch onto a baking sheet. Repeat with the remaining fruit.
Bake for 25 minutes. When you are ready to serve, carefully place the pouches on a dessert places and carefully open the package. Steam will come out as you open it so watch your fingers. This is delicious served with vanilla ice cream.