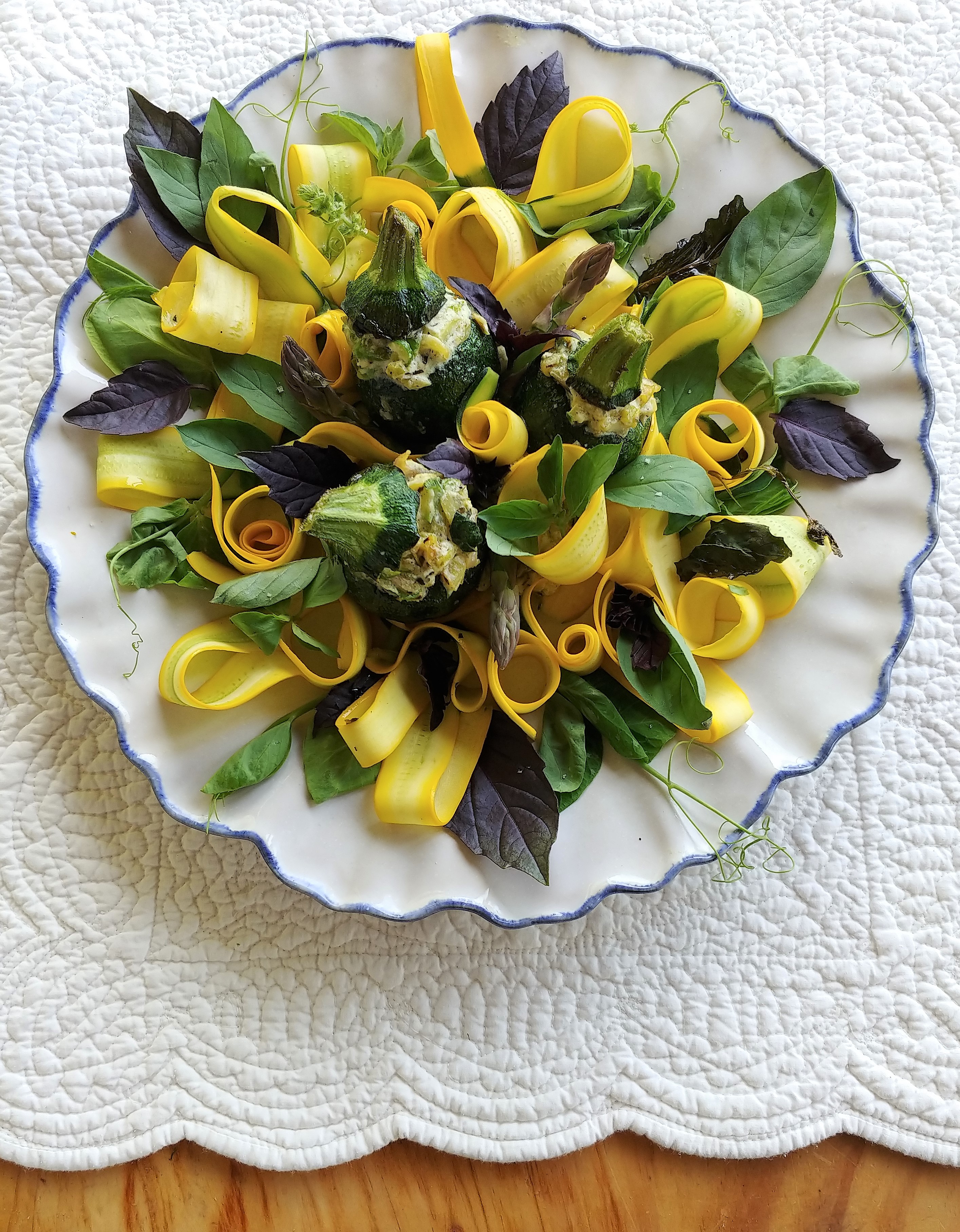 To see Pascale make this dish, watch the Pascale's Kitchen IGTV Channel

Serves 4 people
12 small globe zucchini - stem cut off (reserved)
Olive oil
1/2 lemon
Salt
Pepper
2 large shallots - finely diced
8 asparagus stalks - tips cut off and saved, stalks finely sliced
1 teaspoon Herbes de Provence or Mediterranean Herb Mix
1/3 cup ricotta
Zest of 1 lemon, plus 1 tablespoon lemon juice
8 small yellow squash - entirely peeled into thin strips, then roll up half the strips to form little rosettes
1 bunch pea sprouts
Small handful basil leaves

1. Preheat the oven to 400 degrees.
2. Using a small spoon or melon baler, scoop out most of the flesh inside each globe zucchini, leaving a 1/8th inch thick shell. Place the hollowed out shells, and the reserved stems into a small baking dish. Drizzle with a little olive oil, a squeeze of lemon juice, a pinch of salt and pepper. Roast for 20 minutes.
3. While the zucchini are roasting, prepare the stuffing. Pour two tablespoons of olive oil into a skillet placed over medium heat. Add the zucchini flesh, shallot and chopped asparagus, Herbes de Provence (or Mediterranean Herb Mix), a pinch of salt and 4-5 grinds of pepper. Cook for 3-4 minutes stirring frequently.
4. In a bowl combine the ricotta, lemon zest, lemon juice and the cooked vegetable mix.
5. Spoon the stuffing into the cooked zucchini shells, reserve any left over stuffing. Return the zucchini to the oven and roast for a further 10 minutes.
6. On a large platter spread out the pea sprouts. Scatter the yellow squash strips across the sprouts, and insert the squash rosettes in amongst the strips. If you had any stuffing left over, mound it in the center of the platter.
7. Once the zucchini are cooked, place them in the center of the platter. Scatter basil leaves over the dish. Drizzle with a little olive oil and another squeeze of fresh lemon juice.