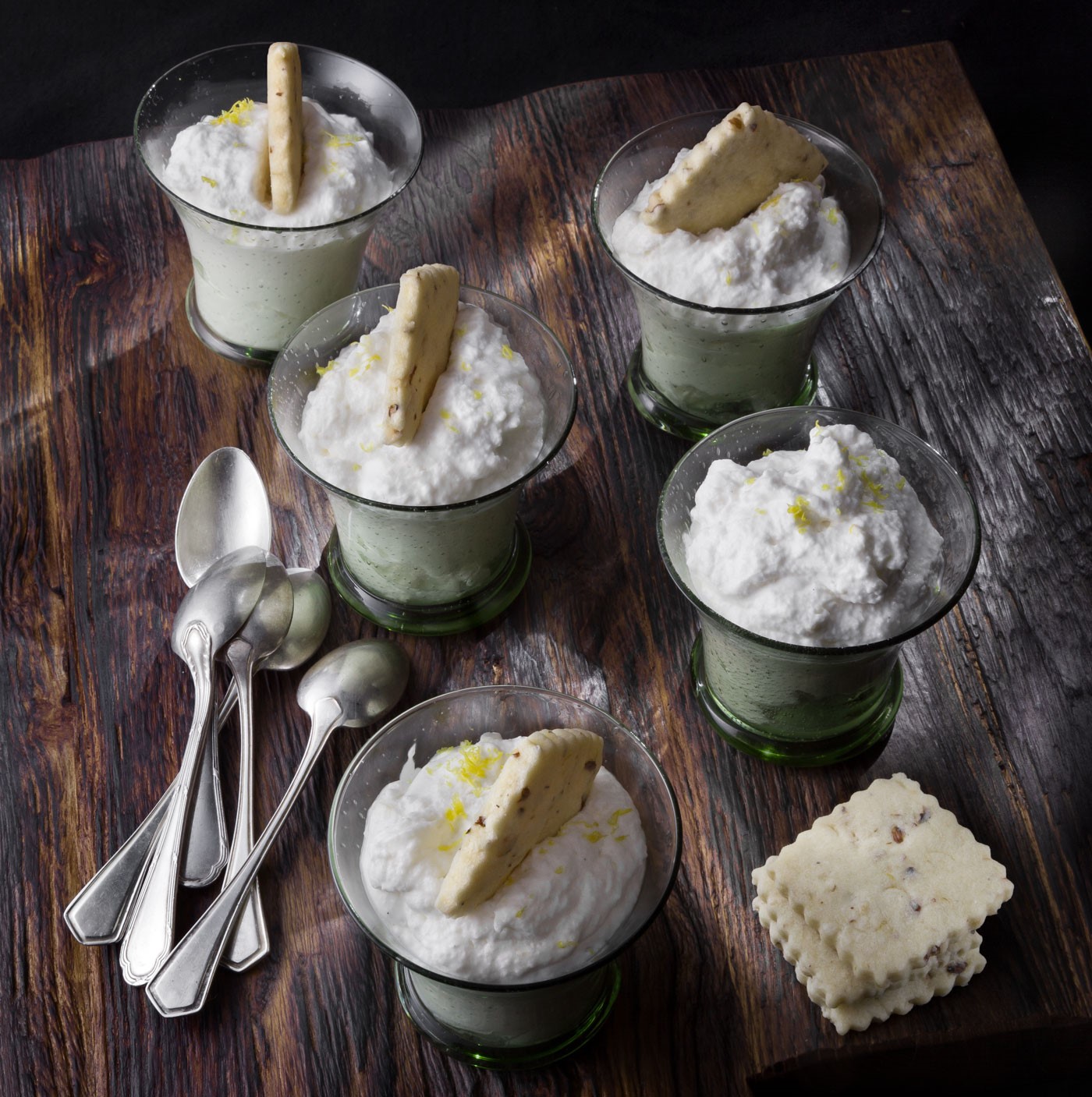 Lightly whipped cream + crème fraîche + whipped egg whites, vanilla and a touch of sugar + lemon juice = a little bit of heaven in a bowl.
Serves 8 people
12 oz whipping cream
3 oz (1/3 cup plus 1½ tablespoons) sugar
Zest and juice of 2 lemons
6 oz crème fraîche
½ teaspoon vanilla paste or pure vanilla extract
3 large egg whites
In the bowl of a standing mixer, whisk the cream until it begins to thicken. With the machine running, gradually add the sugar, lemon zest and juice, until the cream is nice and thick. Use a rubber spatula to gently fold in the crème fraîche and vanilla.
In a separate bowl, whisk the egg whites until they form soft peaks. Gently fold the egg whites into the cream base. Spoon the mixture into eight glasses or bowls and refrigerate for 2 hours. Serve with salted shortbread biscuits.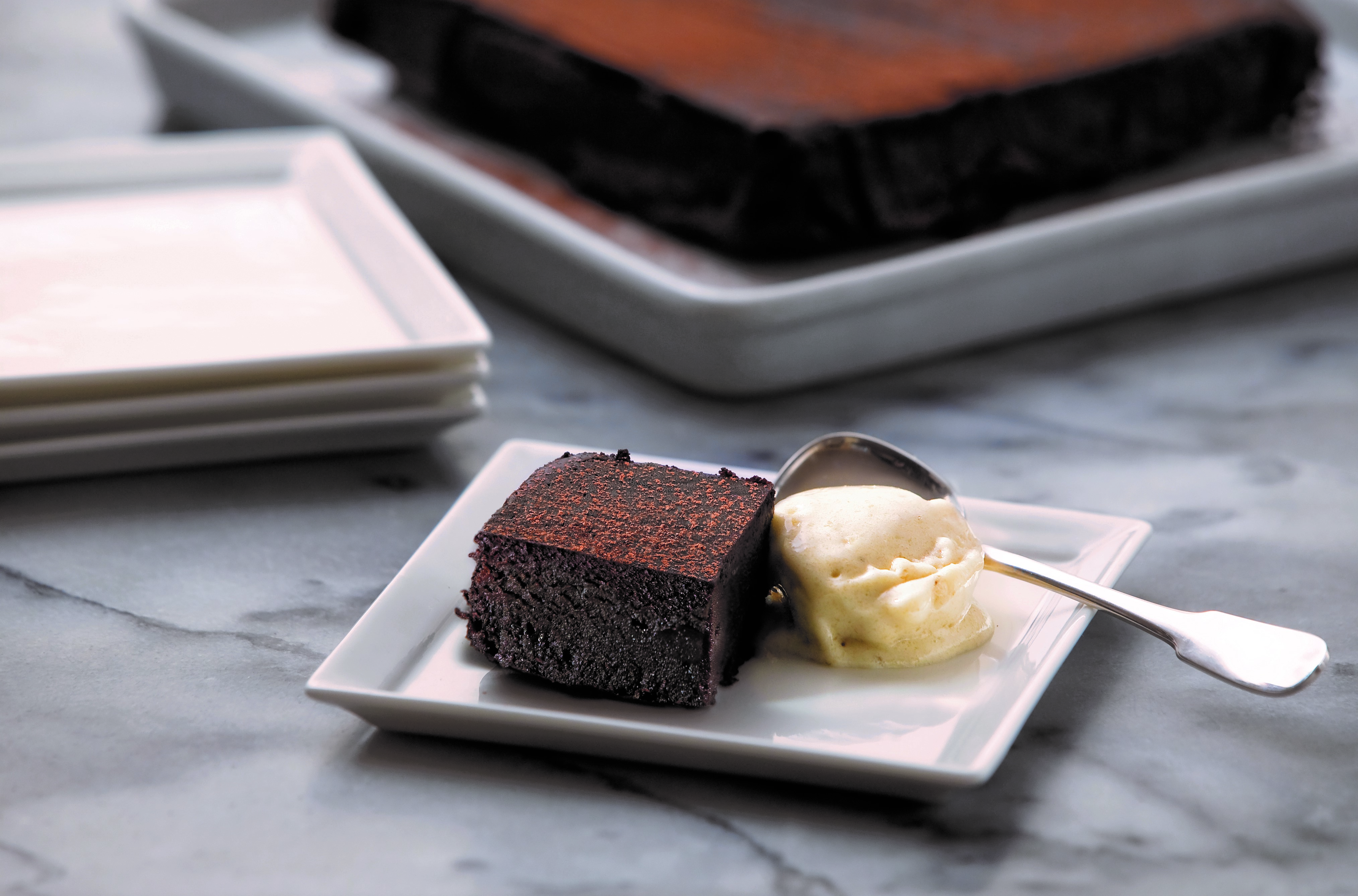 All the men in my family are chocolate obsessed. They must have a genetic predisposition to it. This extremely moist cake is for them, and for all chocolate lovers.
Serves 10-12 people
12 oz dark chocolate – chopped into small pieces
12 oz unsalted butter
9 oz sugar
6 eggs – lightly beaten
Cocoa Powder
1. Preheat the oven to 325 degrees.
2. In a medium sized saucepan over low heat, melt the sugar and butter until completely melted and smooth.
3. Add the chocolate and melt until completely incorporated and smooth once more.
4. Remove from the heat, let the mixture cool down for 5 minutes and stir in the beaten eggs.
5. Pour the cake mixture into a parchment lined cake tin. Place the cake in the center of the oven. Bake for 25-30 minutes.
6. Remove the cake from the oven and invert it onto a cake plate. Remove the cake tin and parchment paper. Let cool for 20 minutes before dusting with cocoa powder. Serve with crème fraiche or vanilla ice cream, or both.
Note: It will still be very moist so that a knife inserted will not come out clean.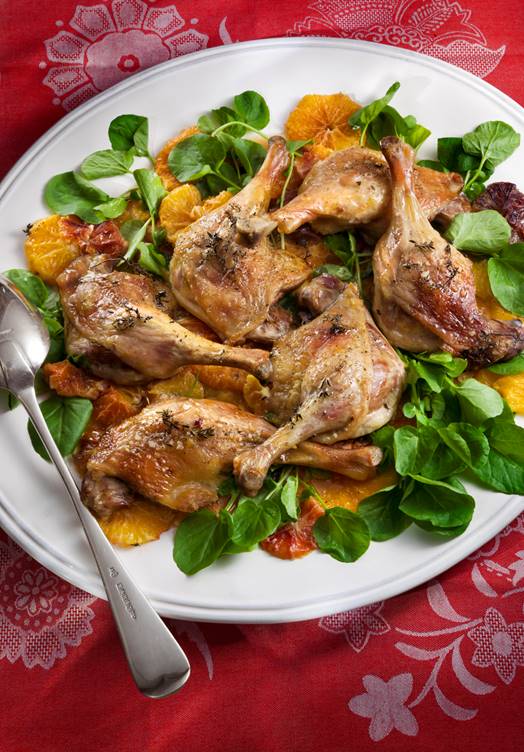 My brother and I loved Canard a l'Orange growing up. Our mother used to make an incredibly elaborate version of this dish, which at the time seemed to take days to prepare. This version is more rustic. It's quick to make and a tribute to that delicious extravagance I remember from my childhood. Merci Maman.
Serves 8 people
8 duck legs — trimmed of any excess fat
16 sprigs of thyme
Coarse sea salt and black pepper
4 oranges — peeled and sliced into disks
4 blood oranges — peeled and sliced into disks
Olive oil
2 bunches baby watercress
Preheat the oven to 400 degrees.
Place the orange slices on a baking pan, overlapping them slightly. Drizzle with a little olive oil and sprinkle with a little salt and pepper. Set aside.
Place the duck legs on a sheet pan and carefully score the skin, cutting slightly into the meat. Insert a sprig of thyme into each incision. Sprinkle with coarse sea salt and some black pepper. Roast on the middle rack of the oven for 30 minutes.
Reduce oven temperature to 350 degrees. Place the pan with the oranges in the oven on a rack below the duck. Continue roasting the duck and oranges for 30 minutes.
To serve, place the orange slices on a serving platter. Place the roasted duck on top of the oranges. Tuck the watercress between the duck legs.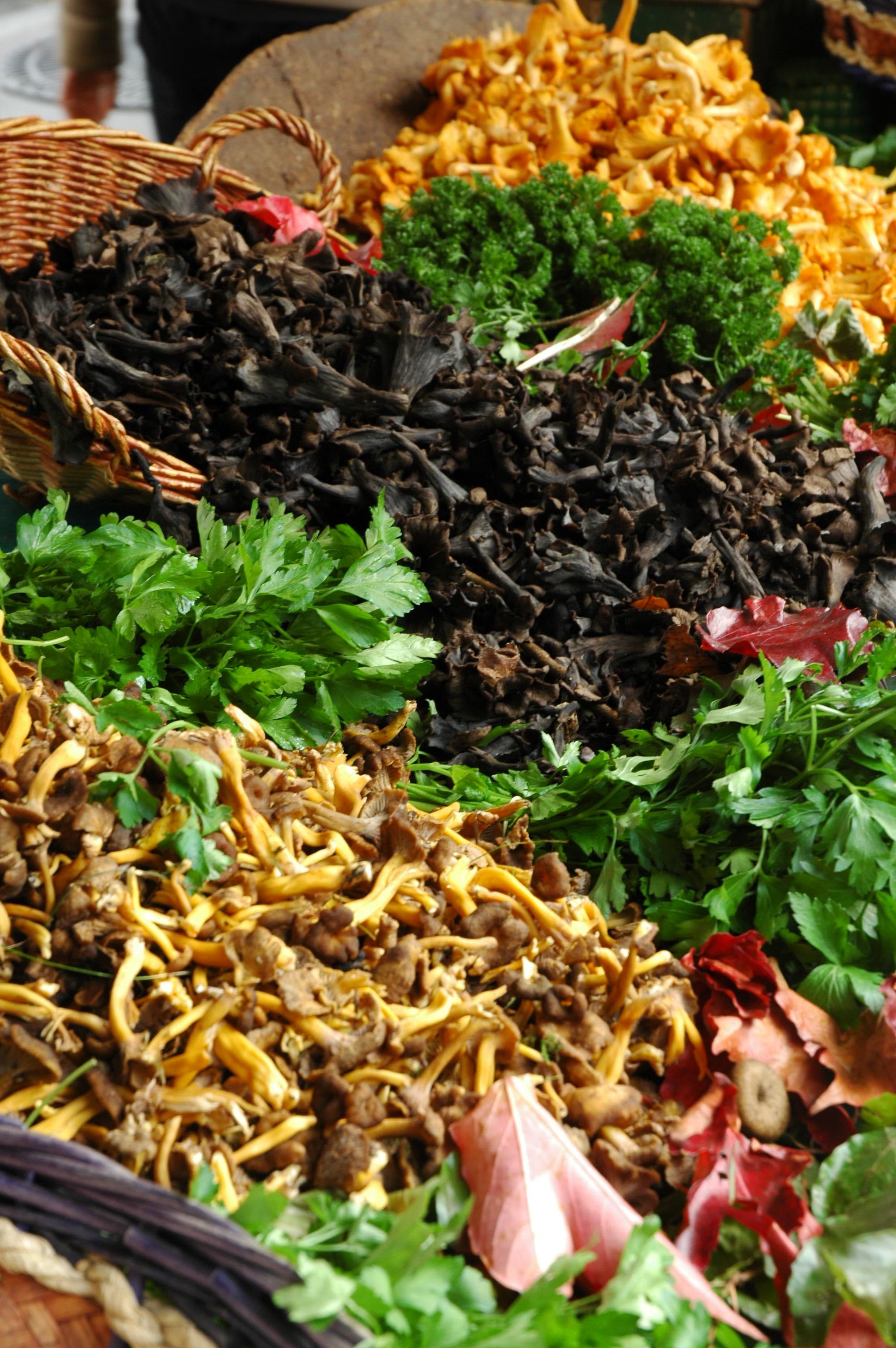 This salad contains two of my favorite ingredients—white asparagus and wild mushrooms. If the wild mushrooms happen to be chanterelles, even better. Honestly, there are few things that are more mouth-watering than the aroma of sizzling butter in a pan with sliced mushrooms cooking in it. Sometimes I'll cook a few mushrooms to add to a green salad or on some toast with a piece of goat cheese. I love their earthy flavors. White asparagus have an herbaceous quality to them. They balance the rustic qualities of the mushrooms in this salad. It's a dish I look forward to every spring as we emerge from winter.
Serves 8 people
2 lbs. white asparagus — carefully peeled, tips cut off, and stems cut on a bias in 1-inch pieces
2 shallots — peeled and finely sliced
1 ½ lbs. assorted wild mushrooms — cleaned and sliced
1 tablespoon butter
1 teaspoon mustard
3 tablespoons olive oil
1 tablespoon vinegar
1 bunch chives — finely chopped
Salt and pepper
Place the asparagus in a steamer or in a large pan of lightly salted boiling water and cook for 6-7 minutes until just al dente. Remove from the steamer (or pan), drain and set aside.
While the asparagus are cooking, pour a little olive oil into a large skillet placed over medium-high heat. Add the shallots and cook until just golden, about 3 minutes. Add a tablespoon of butter and then the sliced mushrooms. Cook until golden brown. You may have to cook the mushroom in batches, adding a little butter with each batch.
Combine the mustard, olive oil and vinegar in a large salad bowl and whisk until you have an emulsion. Add in a pinch of salt and some black pepper. Place serving utensils over the vinaigrette and then add the cooked asparagus, mushrooms and chives to the bowl, on top of the utensils. When you are ready to serve, toss the salad carefully and divide among 8 plates.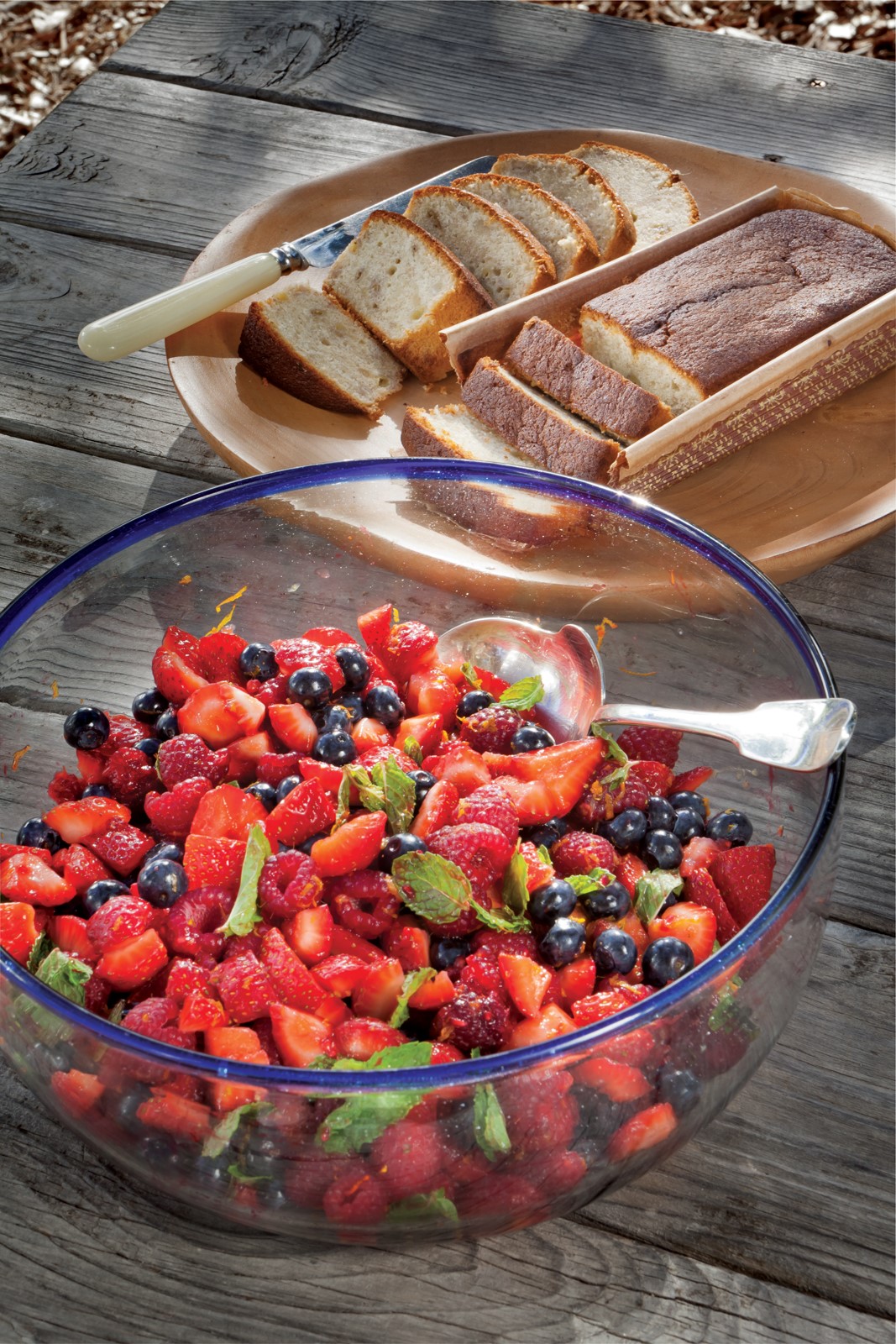 Banana Date Pound Cake
Serves 8-10 people
8 oz butter
8 oz sugar
3 -4 bananas – peeled and mashed with a fork on a plate
10 dates – cut up into little pieces
8 oz flour
4 eggs – separated
1. Preheat the oven to 400 degrees.
2. Melt the butter in a saucepan placed over medium heat. Once the butter has melted add the sugar and stir until melted. Add in the bananas and dates and stir to combine. Add the flour and stir until completely absorbed by the mixture and then remove from the heat.
3. When the cake mix has cooled to the touch, add in the egg yolks and stir together.
4. Whisk the egg whites in a separate bowl, and then gently fold the whisked egg whites into the cake batter.
5. Line a 9-inch cake tin or loaf pan with parchment paper. Pour the cake mixture into the cake tin and cook for 30 minutes or until a knife inserted into the center of the cake comes out clean.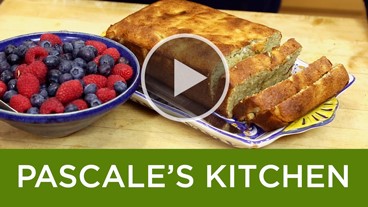 See Pascale make the cake in this episode from Pascale's Kitchen.