A series of four seasonal Mediterranean-style cookbooks by Pascale Beale featuring what Edible communities co-founder Tracey Ryder calls "a constant reminder of how vibrant and fulfilling...seasonal dishes...can truly be."
More >>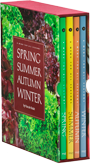 Pascale's Kitchen Tips
To make a quick and easy version of crème fraiche, combine equal amounts of heavy cream with sour cream in a bowl. Leave covered overnight on the kitchen counter. In the morning refrigerate your delicious crème
fraiche mixture.
Sign Up to receive Our E-News and blog
Receive special offers, product reviews, recipes, event info and tidbits.