"Author Pascale Beale brings a market basket of delights to her readers. Anyone who loves
Salade
will devour
Les Fruits
, and will relish all the new ways to use fruit to brighten a meal. A sweet and savory take on fruit—bring this book to the market with you, and you'll find inspiration on every page!"
—Celia Sack: Omnivore Books.
Read More >>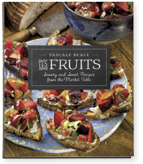 Pascale's Kitchen Tips
To make a quick and easy version of crème fraiche, combine equal amounts of heavy cream with sour cream in a bowl. Leave covered overnight on the kitchen counter. In the morning you'll have a delicious crème fraiche mixture. Refrigerate it at this point. It is delicious with smoked salmon.
Sign Up to receive Our E-News and blog
Receive special offers, product reviews, recipes, event info and tidbits.