Salade: Recipes from the Market Table
was selected by Omnivore Books for Evan Kleiman's (KCRW Good Food) list of the best cookbooks of 2014, and has been nominated for The Art of Eating Prize. The first edition sold out in 17 weeks, but fear not, the second edition is here.
Read More >>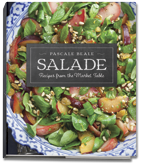 Pascale's Kitchen Tips
To make a quick and easy version of crème fraiche, combine equal amounts of heavy cream with sour cream in a bowl. Leave covered overnight on the kitchen counter. In the morning you'll have a delicious crème fraiche mixture. Refrigerate it at this point. It is delicious with smoked salmon.
Sign Up to receive Our E-News and blog
Receive special offers, product reviews, recipes, event info and tidbits.