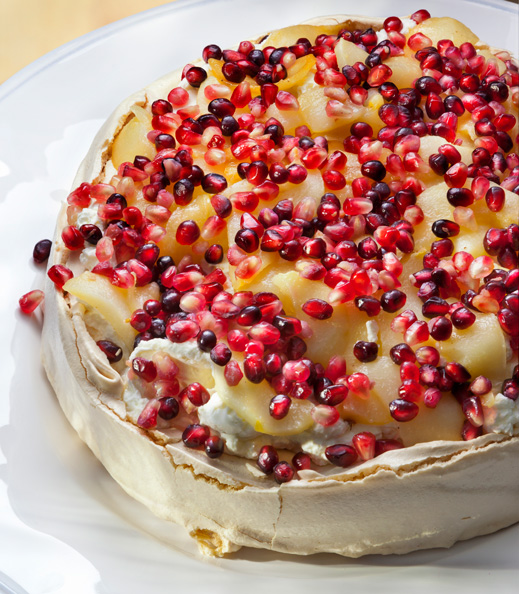 I first made Pavlova with my good friend Michael. He had his Mum's recipe and it was fabulous. I've since become slightly addicted to this dessert. In fact, last summer could have been called the Summer of the Sunday Pavlova. We continued to make it throughout the year, trying a multitude of fruit combinations. Then we struck on pears and pomegranate seeds. Oh my! This is a stunning winter dessert. Thank you, Michael, for introducing me to this scrumptious, ethereal pudding.
Serves 8-12 people
4 egg whites at room temperature
Pinch of salt
8 oz ultra-fine sugar (1 cup plus 2 tablespoons)
2 teaspoons cornstarch
1 teaspoon white wine vinegar
1 teaspoon vanilla paste or pure vanilla extract
1½ cups of cream
1 tablespoon sugar
1 tablespoon butter
3-4 pears — peeled, cored and sliced.
1 teaspoon sugar
Seeds of 1 pomegranate
Note: To make ultra-fine sugar, process granulated white sugar in food processor for 1 minute.
1. Preheat the oven to 300 degrees.
2. Draw a 9-inch circle on parchment paper, using a compass or dinner plate. Place the parchment paper on a baking sheet with drawn circle side down.
3. Using a standing mixer fitted with the whisk attachment beat the egg whites with a pinch of salt until satiny peaks form. Then beat in the ultra-fine sugar, one tablespoon at a time, until the meringue is stiff and shiny. Sprinkle the cornstarch, vinegar and vanilla over the whipped egg whites. Fold in lightly using a rubber spatula.
4. Mound the meringue mixture onto the parchment paper and spread it to the edge of the circle. Flatten the top and smooth the sides.
5. Place the meringue on the bottom rack of the oven and immediately reduce the temperature to 250 degrees. Bake for 1¼ hours. Turn off the oven. Let the meringue cool with the door slightly ajar. Remove from oven when the meringue has cooled completely.
6. Whip the cream with the sugar until it forms soft peaks. Top the meringue with whipped cream.
7. Melt the butter in a large skillet over medium-high heat. Add the sugar and the pear slices. Cook until golden and caramelized. Let cool in the pan.
8. When the pear slices are cool, place them on top of the whipped cream. Top with pomegranate seeds.